Trinity Trigger Day 1 Edition - (R1)(Eng/Jpn)(PS4)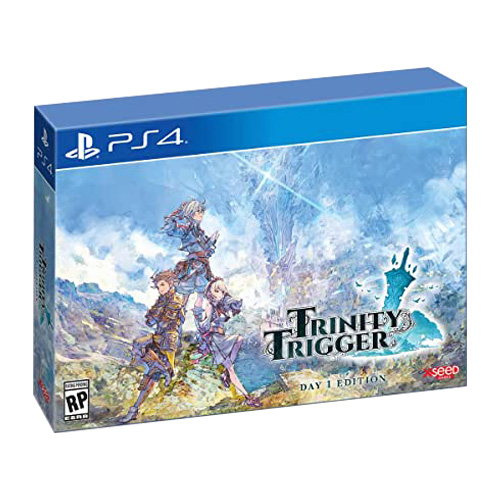 Trinity Trigger Day 1 Edition - (R1)(Eng/Jpn)(PS4)
---
* Free shipping delivery to East Malaysia
* Usually ships within 1-3 business days
Step into the world of Trinity Trigger, an all-new action role-playing game combining the look and feel of iconic RPGs of the '90s with a modern emphasis on fast-paced, customizable combat.
The Day 1 Edition for Trinity Trigger will include:
include a 5.25" by 7.25" softcover artbook brimming with over 100 pages of game artwork from esteemed artists Yuki Nobuteru and Raita Kazama along with a two-disc soundtrack featuring the moving game score by composer Hiroki Kikuta, packaged together with the game in a custom box.
As Cyan, a young man burdened with the mantle of Warrior of Chaos and an inevitable clash with the Warrior of Order as the gods' proxy, players will set out on a grand adventure to defy fate and save Trinitia. Cyan and his companions Elise and Zantis are accompanied by strange creatures known as Triggers that can transform into eight types of weapons, and players can switch freely between the three characters to implement a solo combat strategy, or team up with up to two friends for local co-op.