The Legend Of Zelda: Breath Of The Wild Met With Critical Acclaim Across All Gaming Sites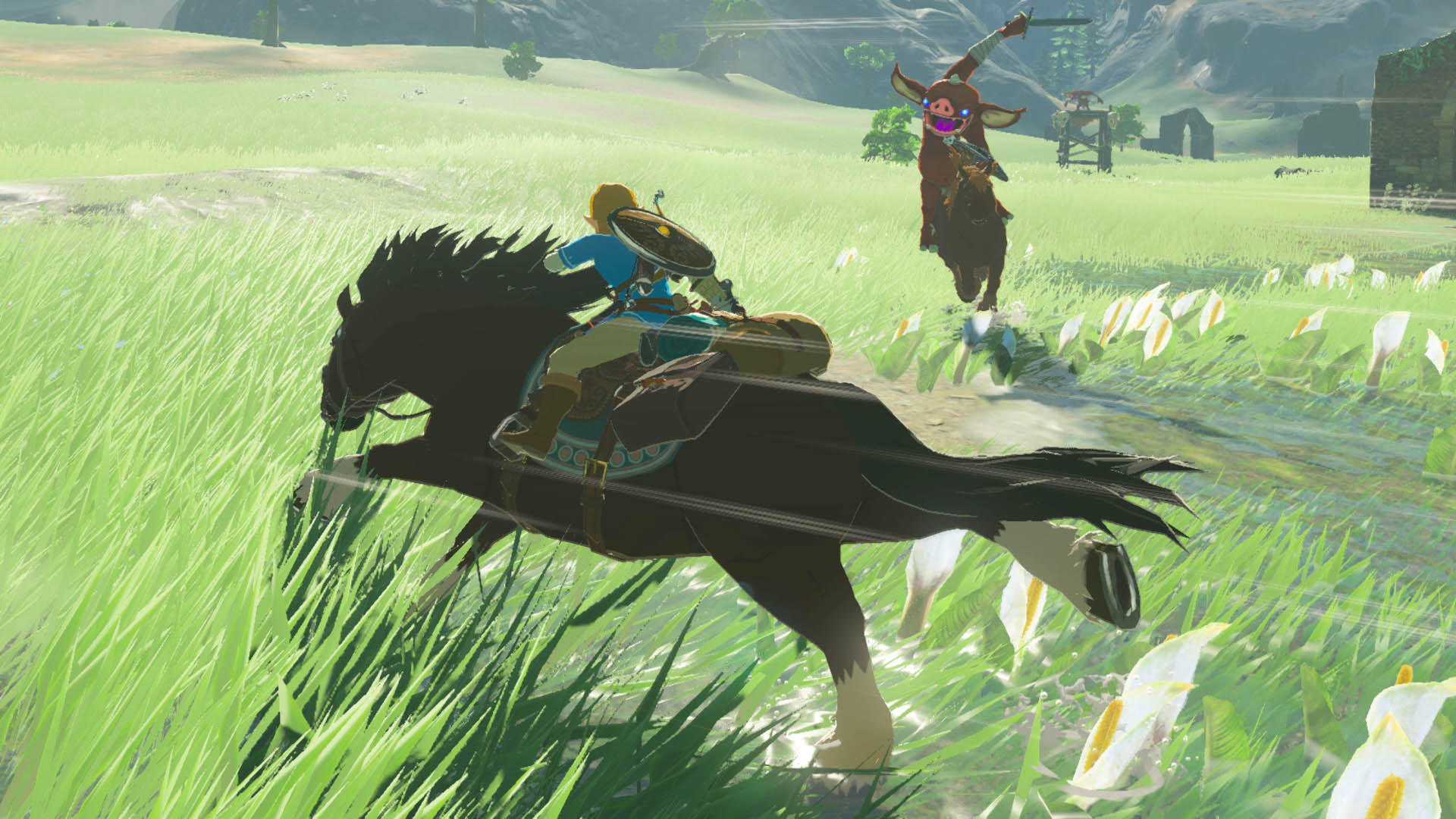 With the Nintendo Switch launch, The Legend Of Zelda: Breath Of The Wild game leading as the flagship launch title. There was a lot of concern of very little launch title available at launch & if the latest Legend Of Zelda game would be able to propel the Nintendo Switch console to the top that are usually dominated by PlayStation & Xbox. The big question is, is it any good? The answer is yes. A big resounding YES.
The game impressed many gaming critics whom many gave it a perfect score. The last Zelda game or any Nintendo game for that matter which received that much praise was The Legend of Zelda Ocarina Of Time back in 1999.
Let's read what everyone have to say about The Legend Of Zelda: Breath Of The Wild.
Kotaku
This is a game that will dominate dinner conversations. It's a game that will lead to countless anecdotes, discoveries, and swapped stories. Already, colleagues and I have spent a great deal of time comparing notes and talking about how we solved major puzzles. For one early section in which you have to figure out how to get Link through a freezing cold mountain, three Kotaku writers found three completely different ways to proceed. We've discussed surprise boss encounters, hidden puzzles, and where to find all the Korok seeds that are sprinkled across Hyrule. We've talked about Breath of the Wild's mysteries and weird secrets, telling tales about the time one of us jumped down to a crevasse that seemed unexplorable, but in fact contained a new shrine: the designers' way of rewarding curious players.
Giant Bomb
This sense of wonder is something that I haven't felt so strongly since I played A Link to the Past when I was seven years old. Ocarina of Time was able to capture some of that same magic in my teenage years. Now that I'm in my thirties, I don't think that I expected it to be possible for a game to make me feel like that again. I've been reviewing video games for twelve years now, and I'm used to describing games in a certain way. "This game controls well. This mechanic is innovative. The graphics are stunning. The skill tree feels limited." That type of language doesn't adequately convey how Breath of the Wild made me feel. Nintendo may have changed so many long-standing traditions of the Zelda franchise, but the spirit of discovery is as strong as it's ever been no matter your age. I didn't think I'd feel the Zelda magic this strongly ever again, but I couldn't be happier to be proven wrong.
Gamespot
No matter how gorgeous its environments are, how clever its enemies are, and how tricky its puzzles get, the fact that Breath of the Wild continues to surprise you with newfound rules and possibilities after dozens of hours is by far its most valuable quality. It's a game that allows you to feel gradually more and more empowered yet simultaneously manages to retain a sense of challenge and mystery--which, together, creates a steady, consistent feeling of gratification throughout the entire experience. Breath of the Wild is a defining moment for The Legend of Zelda series, and the most impressive game Nintendo has ever created.
DualShockers
The Legend of Zelda: Breath of the Wild is no mere Zelda game — it is a return to form for the decades-old series, showing that Nintendo still very much understands how to handle their property. Breath of the Wild may not only be the best Zelda game ever produced, but it rivals Super Mario 64 and Halo: Combat Evolved for the best launch game ever shipped with any console. With no exception, The Legend of Zelda: Breath of the Wild is a masterclass in game design and creativity, unprecedented from even Nintendo.
IGN
The Legend of Zelda: Breath of the Wild is a masterclass in open-world design and a watershed game that reinvents a 30-year-old franchise. It presents a wonderful sandbox full of mystery, dangling dozens upon dozens of tantalizing things in front of you that just beg to be explored. I've had so many adventures in Breath of the Wild, and each one has a unique story behind what led me to them, making them stories on top of stories. And even after I've spent more than 50 hours searching the far reaches of Hyrule, I still manage to come across things I haven't seen before. I'll easily spend 50 to 100 more trying to track down its fascinating moments.
Destructoid
The Legend of Zelda: Breath of the Wild has very little wrong with it. There's the occasional framerate drop, a short stealth sequence, another short escort bit, and a few bosses that are fine, but aren't as memorable as they should be. They're going to be the main talking points as folks break the game down over the course of the next year (and decade). But those moments were quickly erased from my mind given the rapid-fire pacing and promise of returning to the sprawling universe. I flipped dungeons 360 degrees and walked on their ceilings, and never once was frustrated. I found an island where a deity stripped me of my items and challenged me to solve various riddles so I could get my gear back. I fought optional world bosses, explored labyrinths far off the beaten path, and gradually learned how to tame horses -- none of which are handed to you on a silver platter.
This isn't your typical boiler plate open world cash grab, rife with to-do lists and busywork. Zelda: Breath of the Wild is an evolution of the formula for both eastern and western philosophies alike, and a new blueprint.
Attack Of The Fanboy
The simple fact is that The Legend of Zelda: Breath of the Wild is one of the best games ever made. It marks a turning point for the medium that will be learned from for some time. It is a system seller in every sense of the word, and if you don't already have a way to play it, you owe it to yourself to find one. Few games make you feel so many emotions and so strongly. You will be excited, scared, curious, adventurous, happy, sad, and everything in between. You will put in dozens of hours and still feel like you've only scratched the surface. The Legend of Zelda: Breath of the Wild is a triumph of game design and it will be remembered as a true milestone for the entire art form.
Game Informer
Breath of the Wild is an achievement in the design of a living world. Hyrule is massive, with multiple environmental systems layered on top of a grand adventure. The only technical issue I encountered was one related to the framerate when fighting multiple enemies in busy forests. Despite the massive scope of the game, Breath of the Wild retains Nintendo's knack for polish without any major technical hiccups to disrupt the experience. I was entranced by this version of Hyrule, and it surprised me at nearly every turn, from its wealth of discoveries to the way it shuns the established tropes of previous Zelda games. It represents a profound new direction for one of gaming's best franchises and a new high point for open-world interactive experiences.
Polygon
I guess, in the end, it's not just that Breath of the Wild signals that Zelda has finally evolved and moved beyond the structure it's leaned on for so long. It's that the evolution in question has required Nintendo to finally treat its audience like intelligent people. That newfound respect has led to something big, and different, and exciting. But in an open world full of big changes, Breath of the Wild also almost always feels like a Zelda game — and establishes itself as the first current, vital-feeling Zelda in almost 20 years.
Gamesradar+
The series has always had something of a fairytale quality to it - its grand landscapes and worlds suggestive of so much more. The sight of dawn over a shimmering lake. The rolling plains of Hyrule Field stretched out beneath you. It speaks to our imaginations, calling us on to adventure. What a familiar feeling to look across Hyrule Field at Death Mountain, wondering what it would be like to climb it. What a profound thrill to make that journey in its entirety. It has taken 18 years, but Nintendo has done it again: this is the adventure game to beat.
Nintendo Life
The Legend of Zelda: Breath of the Wild is a landmark release for its franchise and Nintendo. It's the first time that Nintendo has truly taken on the open-world genre in a current-generation sense; in arriving late to the party, though, it embraces some strengths from top-of-the-class games while also forging its own identity. This game is a revolution for the franchise, but the Legend of Zelda essence is still there - its soul remains.
The end result, then, is a captivating experience. This will be in the running as the best game in the IP's history, and it will likely be discussed as a leading contender in the broader open-world genre. Nintendo has bravely taken one of its biggest franchises in a new direction, and it's delivered a triumph.
The Sixth Axis
The Legend of Zelda: Breath of the Wild dramatically updates this venerable and beloved series, bringing new ideas into the fold which, while seemingly taking inspiration from others, seamlessly adapts them to fit and never loses its own identity. It's refreshingly new and familiar at the same time, making for both one of the greatest launch titles and the sweetest swan songs any console could wish for.
Ars Technica
After spending a week utterly immersed in Nintendo's open-world reimagining of the tried-and-true Zelda formula, it's hard to return to the more formulaic entries of the franchise's past. Breath of the Wild is an instant classic and a brave new direction for a series that has been stuck in some of its ways for far too long.
Eurogamer
All that has been either swept aside or remade from first principles. It's hard to overstate the courage and conviction with which producer Eiji Aonuma, director Hidemaro Fujibayashi and their team have rewritten their own work, and the size of the risk Nintendo has taken with a beloved property. Breath of the Wild isn't just the most radical departure from the Zelda tradition in its 30-year history, it's the first Nintendo game that feels like it was made in a world where Half-Life 2, Halo, Grand Theft Auto 3 and Skyrim happened. It's inspired by those greats and others, but it doesn't ape them any more than it rests on its own laurels. And if we're talking inspirations, we have to recognise one game above all others, an uncompromising adventure from 1986 that dared to take gaming off the rails, that put a whole world beyond the TV screen and invited the player to explore it: the original Legend of Zelda.
Game Rant
The Legend of Zelda: Breath of the Wild isn't just for longstanding Zelda fans, it's the pinnacle of an open-world experience that will appeal to anyone looking for a great game. An overall lack of voiced dialogue and an initially tricky menu layout are easy to come to terms with and overlook when compared to the sheer scale and fun found in Breath of the Wild. Anyone wondering how it stacks up, it's important to note that this could very well be the best Zelda has ever been, and it provides gamers of all walks with a Hyrule that's more than worth saving.
Cheat Code Central
The Legend of Zelda: Breath of the Wild could very well gone down in history as the best The Legend of Zelda game ever made. I genuinely feel it is the best entry in the series I have ever played. The characters are amazing, the world is gorgeous, the enemies make you become a better fighter, and the shrines and dungeons constantly force you to pay attention to your surroundings and think. It is an absolutely extraordinary game, one that is a fitting end to the Wii U and glorious beginning for the Switch.