Spider-Man Review Round Up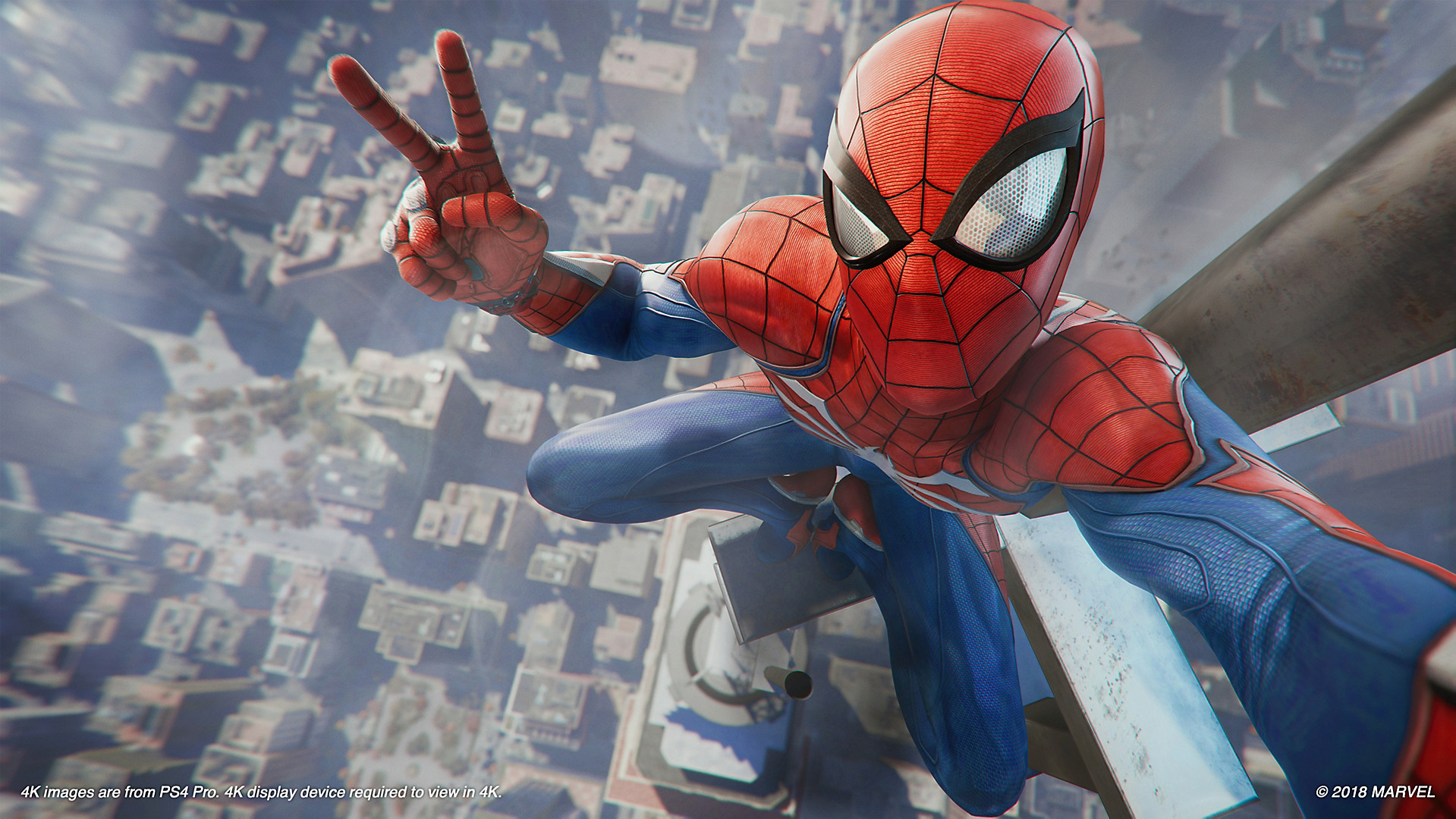 Marvel's Spider-man has spawned many video game adaptation & I could hardly remember if there were any good. Perhaps, the one time I recall having played a decent Spider-man game in 2012 in conjunction with Andrew Garfield's Spider-man with similar titled: The Amazing Spider-Man. Now that Insomniac Games has taken over the franchise, it appears that we may have a good Spider-Man game after all, with all the trailer & gameplay demo.
Review copies were distributed to major gaming websites (we wish we receive one…totally not feeling salty). Does it live up to our expectation or will it wither away just like all other Spider-man games? It seem like gaming critics having a blast with the game. Even good ol'Jim loves it! Let's read what they have to say.
Dualshockers
Whether you're just swinging around the city searching for the many landmarks and collectibles, or fighting crime by flexing Spidey's amazing super-powers and gadgets, Marvel's Spider-Man is a really a pleasure to play at all times. I can say with absolute confidence that this is by far the best superhero game I ever played.
Kotaku
As a playground for one of the most idiosyncratic superheroes of all time, Marvel's Spider-Man is sheer bliss. It's a sandbox platformer first and foremost, and a damn good one. Throughout playing the game I was constantly hounded by the question of whether these—sublime superhero traversal in a gorgeous, idealized version of New York—were enough. After countless hours spent cleaning up every last icon on the map, I'm convinced they are.
Eurogamer
What I love more than anything, is that behind the traversal and combat, Insomniac is a wonderfully controlling developer. For the entire length of the campaign they won't hand the city over to a day/night cycle or randomise the weather because they want total command of the atmosphere for the beats big and little to play out in. Just like they want those webs to attach to buildings in a convincing manner, they don't want to leave too many other details to be ground up in the cogs of an open-world. Somebody, in other words, is looking out for Spider-Man, a superhero whose pleasing vulnerability means that he needs looking after now and then - just as he could do with a little help getting his belongings out of the trash.

And it's a reminder, then, that while it seems that games of a certain type - and a certain budget - are all converging these days, that all games are in a hurry to become the same game with the same tricks and the same hooks, there are still places, even within the most risk-averse of designs, for genuine character to bloom. Go get 'em, tiger.
IGN
I wanted Marvel's Spider-Man on PS4 to make me feel like Spider-Man: To sail between the highrises of New York City, to nimbly web up hordes of enemies, and tussle with familiar, animal-themed villains. Insomniac Games' first foray into the world of Marvel handily delivers on all of that. But what I didn't expect from Spider-Man was to come away feeling just as fulfilled to have inhabited the life of Peter Parker. Aside from a few odd pacing issues, which momentarily took me out of the experience of being a superhero, and a world of optional missions that don't always quite live up to the heft of the main story, Insomniac has delivered a Spider-Man story that both surprised and delighted me, coupled with gameplay that made me feel like Spider-Man nearly every step of the way. The Wall Crawler's open world doesn't consistently deliver the thrilling moments of its main campaign, but the foundation laid here is undoubtedly a spectacular one.
Gamespot
Minor shortcomings don't detract from Insomniac's achievement in creating a game that feels like an authentic interpretation of a beloved creation. The feeling of embodying Spidey and using his abilities is astonishing, and the time spent on exploring its major characters help make its story feel heartfelt, despite superhero bombast. There have been open-world Spider-Man games before, but none so riveting and full of personality, none that explore and do justice to this many facets of the universe. Insomniac has created a superior Spider-Man experience that leaves a lasting impression, one that has you longing for just one more swing around New York City, even after the credits roll.
Destructoid
Spider-Man isn't just a great superhero game, it's a proof of concept for Insomniac as a company. This project shows that they can basically handle pretty much any universe, because if you can accurately recreate Peter Parker's nimbleness and gentle heart you can do anything: and with multiple teasers at the end, I think they'll get that chance.
Polygon
That small example may highlight my biggest criticism of Marvel's Spider-Man. There aren't many surprises to the game; despite being an open-world experience, it plays upon a linear story, and the twists that happen feel familiar. The action sequences are breathless and memorable, but after the game's final act I was left wanting more. Just like a summer blockbuster, Spider-Man leaves too much waiting in the wings for its obviously upcoming sequel. 
VG24/7
Spider-Man is at its best when you're mid-flow. It's a game that can capture that awesome trance-like feeling where you're so in tune with the rhythm of swinging and hopping between buildings or dodging, countering and attacking enemies that everything else melts away. That's when it feels most special, and it's then that what Insomniac has achieved here is most plain. Much of its design is familiar, but it appears here in a refined, polished form that makes it an easy recommendation.
PlayStation LifeStyle
Marvel's Spider-Man doesn't innovate on the open-world genre, but Insomniac doubled down on creating a spectacular Spider-Man fantasy. It simply feels good to travel through Peter Parker's New York as the webslinger, even if whatever Spidey-suit you choose is covering a competent and entirely expected open-world formula. Filled with more emotion, heart, and humanity than we've seen in superhero adventures before, Insomniac doesn't need to reinvent the open-world wheel. Marvel's Spider-Man embraces the man behind the mask and gives us the best interactive Spider-Man experience to date.
Push Square
Ultimately, Marvel's Spider-Man is a must-buy, because no matter how you feel about our webbed superhero, this is just an insanely fun game to play, and it's so well put together. Just like the Arkham games did for Batman, this pretty much provides the definitive version of the Spider-Man universe outside of the comics, and leaves us begging to explore more of it in the inevitable sequel. Webslinging is bliss, combat is fantastic fun, and the extra content and collectibles are varied and infrequent enough not to overwhelm. What's more, the plot and characters are an unexpected surprise, with some fantastic performances that are genuinely touching. Marvel's Spider-Man is one of the best games of 2018 so far, and every PS4 owner will feel proud to own it as part of their library.
US Gamer
Insomniac Games takes Marvel's most popular character for a spin and the results are fantastic. The developer establishes its own Spider-Man with a unique supporting cast and a beautiful recreation of New York to play around in. This is an absolutely beautiful game, with solid combat and a great story. Most of all, it really sells the feeling of being Spider-Man. The gaming history of Spider-Man has been uneven, but this is an amazing entry in that history. Pun intended.
Game Rant
That compulsion to do the next thing and continue to experience this world ultimately sums up Spider-Man's experience as a whole. From the story to the exploration to the combat to seemingly endless upgrades, Spider-Man is packed full of things worth doing and that are fun to do. Insomniac Games has made it seem effortless with the way they can bring this character to life in all the ways a video game can. Spider-Man is a great superhero game, a great PS4 exclusive, but most importantly a great game all its own.
COG Connected
Spider-Man isn't reinventing any wheels, but each aspect of the experience is utterly brilliant. Unbelievably gorgeous, ridiculously polished, and packing everything you're looking for from a Spidey experience, Marvel's Spider-Man is sheer joy from tip to tail. It's the best superhero game of all time.
Game Informer
Like Batman: Arkham Asylum before it, Spider-Man raises the bar for one of the world's most beloved heroes. You feel like you're doing everything he's capable of. Insomniac succeeds in making Peter and the supporting cast just as memorable and engaging as the wall crawler. Excitement is delivered consistently from the outside of play right up to the last story frame, which is a real shocker that contains a reveal that will make the wait for the sequel almost unbearable.
PlayStation Universe
A welcome return for PlayStation's original superhero icon, Insomniac Games have not just given us another sublime PlayStation exclusive but also the best superhero blockbuster the PS4 has ever seen. Spider-Man is a thunderous, essential triumph that bleeds cinematic splendor from every digital pore. Every PS4 owner needs to have Spider-Man in their collection.
Gaming Nexus
Spider-Man is one of the few games that lives up to the tremendous amount of hype around it. I was pulled in at the start and was engaged throughout. This is one of the best-written games I've played as Insomniac has managed to nail all of the big and small details of a Spider-Man game.
God Is A Geek
Regardless of these two issues I've not had this much fun playing a game in a while. Insomniac Games has managed to make the best Spider-Man game of all time thanks to its vast combat and magnificent storytelling. You're given a darker take on a well-loved superhero here, whilst still getting all the humour associated with the awkward-yet-lovable character. It's also emotional at times, and the ending is a powerful one. This'll no doubt give you hours of stuff to do both throughout the story and in all of the side quests and activities, and if you have high hopes for the game you're in luck. This is a triumph, and has set a new benchmark in how to reinvigorate a franchise, making it feel fresh as well as helping us to fall in love with the greatest superhero of all time once more.
Cheat Code Central
When I played Marvel's Spider-Man, one thing was clear: Insomniac Games did its homework. The lore is spot on and the pacing makes it feel like someone is going through Spider-Man comics brought to life. The missions show how amazing Spider-Man is at beating up groups of enemies, stealthily managing situations, investigating, inventing, and besting bosses. The sidequests give you excuses to explore the city and swing through the skies. I do wish that the differences between difficulty levels was a little more obvious, as I felt the Friendly difficulty level might not have been amiable enough to allow less skilled or younger players to enjoy the adventure. Overall, Marvel's Spider-Man does the hero justice.
Attack Of The Fanboy
Spider-Man games have a long history of being disappointing on some level, but Insomniac has crafted a game worthy of the name.  They've managed to capture the essence of what controlling Spider-Man should feel like and surrounded this core idea with an incredible presentation and level of depth that few games using the Spider-Man license have.
Game Revolution
Spider-Man PS4 continues the awesome tradition we've seen emerge in the last decade or so of amazing licensed games. I wasn't a huge fan of some of the more repetitive side activities, but I had a lot of fun in general and gained a new appreciation of Spider-Man, enough so that I'll be checking out the comics when I get the time.
EGM Now
In that respect, I'm probably predisposed to be both nicer to and harder on Insomniac's Spider-Man than most. I'll love anything that lets me live out my childhood fantasies, but I also can't help but hold up Insomniac's game to the version of Spider-Man 2 that exists in my head, all distorted and frozen in the amber of nostalgia. For all my high expectations, and for all the ways Marvel's Spider-Man upended them, I sit here feeling every bit like I'm back in 2004, an awkward adolescent who can't wait to go swing from the Empire State Building and pretend to be a hero.
Games Radar +
Nonetheless Spider-Man is still a hugely enjoyable adventure full of great characters and moments, and just about one of the best videogame realisations of superheroing to date. Insomniac are a studio with nearly 25 year's experience of producing slick, tactile action adventures that feel great to play, and seeing that expertise turned to a licensed game has created an impressively, polished and crafted experience. 
Jimquisition
Perhaps the best Spider-Man game yet made, Marvel's Spider-Man feels terrific to play and has a near-flawless combat system. Just a shame about the open world busywork tasks and lack of villains.

Still, Insomniac made a bloody fine game!