Resident Evil 7 Biohazard Reviews Round-up From Major Sites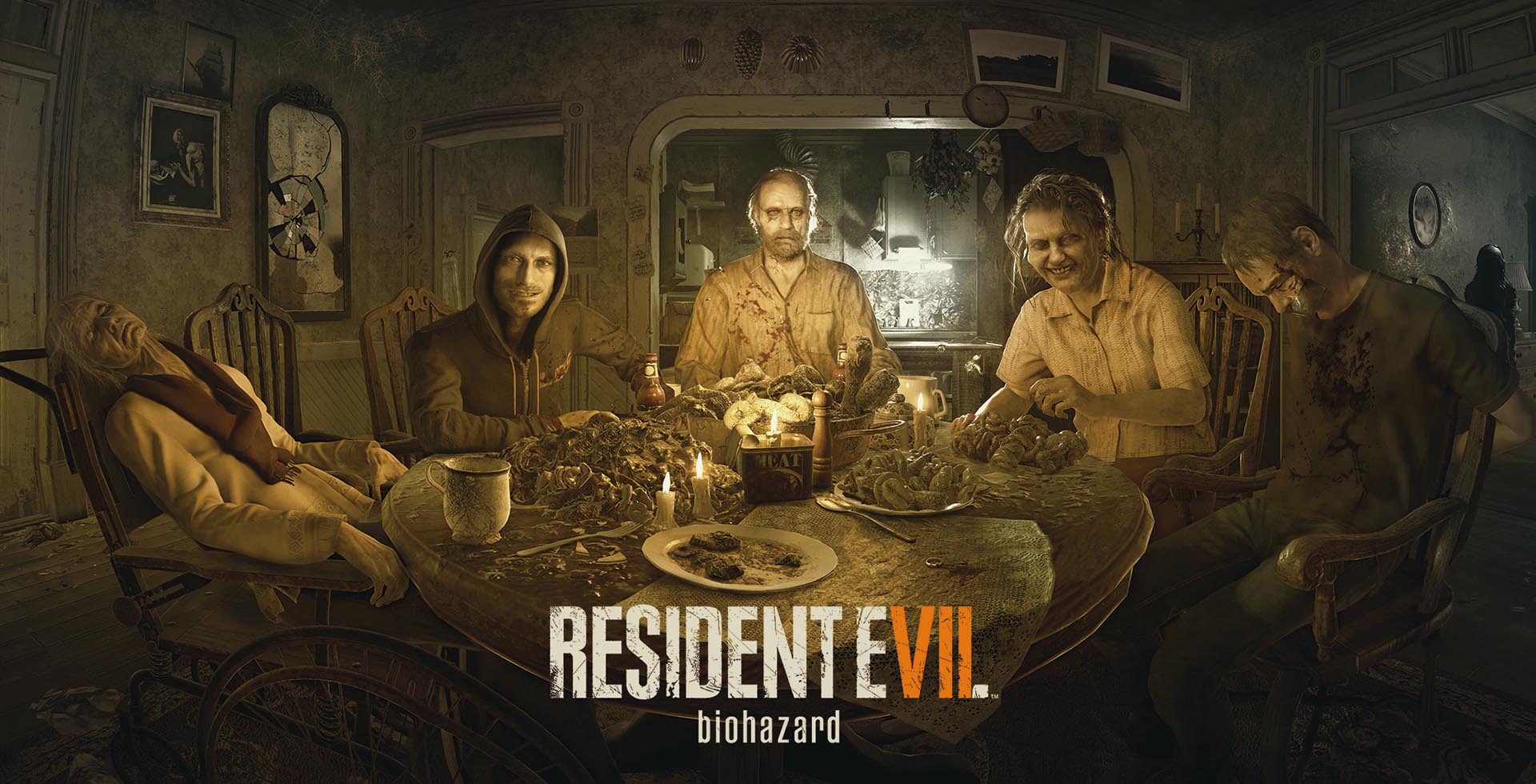 Resident Evil 7 Biohazard has returned to its horror roots of the Resident Evil franchise. The gameplay has changed considerably, moving from third person view into first person perspective with a familiar unnerving claustrophobic experience of the first Resident Evil on the first PlayStation console. Unsurprisingly, the game met with critical acclaim across leading gaming websites. We round up all the reviews & read what they have to say about the game.
Destructoid
I had hoped to enjoy Resident Evil 7 for what it appeared to be: a strange, Western approach to the series. I didn't expect it to hark so close to the series' roots while managing to still bring some action and more intuitive controls. Production-wise, this is the best Capcom's ever done, with believable performances (wait 'til you see the Baker's son. Something about him is so freakishly real to me) and wonderfully creepy audio design. With or without VR, Capcom nailed the pulse-pounding atmosphere and I am finally legitimately excited to see what it's going to do next. Though the enemy design could have been more varied, the bosses more than make up for that. The last hour and boss is slightly underwhelming, but everything up to that is consistently amazing. Resident Evil 7 went beyond my expectations, and I feel we have an instant classic here. I want to jump back in right now, and I have a feeling I'll be doing so for years to come.
IGN
Resident Evil 7 grounds itself in elements that made the original great while still indulging in a risky new shift in style that both helps and hurts the beloved formula in equal measure. But it's also the closest a numbered sequel has come to recapturing Resident Evil's slow, but thrilling and atmospheric adventure game roots in a while — a welcome return that I truly hope to see more of in the future.
Polygon
I would have been pleasantly surprised with much less than Resident Evil 7 brings to bear. I would have settled for, been excited for "not bad." But the Resident Evil series has thrived for over 20 years now in part because of a willingness to change the franchise, to mutate with the times. Resident Evil 7's changes — especially the shift to first-person — may be off-putting to some. But it's an evolution that fits perfectly into the world and source material Capcom has created. It's hard to know if Resident Evil 7 will stand the test of time as much as classics like the original, or RE4. Taken on its own, however, it's an excellent game that pushes the series in worthy new directions.
Gamesradar+
However you play it, Resident Evil's back. Completely different and yet instantly familiar. Compared to the bloated action of the last few installments this is literally a Resi revelation, executing modern horror ideas, interesting characters, locations, and a fantastic atmosphere to create something that can stand proudly among its sources. It's about as an essential a horror experience as you can get.
PlayStation Universe
In a series that has traditionally struggled to keep sight of its storied heritage while trying to imbue its design DNA with new aspects, Resident Evil 7 represents the final and successful sum of these efforts. By looking to the very first entry in the franchise and then building upon such foundations with a nod to its peers, both cinematic and immediate, Resident Evil 7 is quite unlike any other in the series.
Gameinformer
Any concerns I had of Capcom deviating too far from Resident Evil's universe were wiped out by the time the credits rolled. I love how the ghost story is integrated into the series' lore. Yes, this game eventually goes deep with its scientific explanations. It's a slow unveiling of information that sets up the series nicely for future installments.  Capcom has successfully reinvented Resident Evil in the past, the most notable deviation being the brilliant Resident Evil 4. This new vision doesn't reach the same heights of spectacle and gameplay innovation as that breakthrough release, but is a welcome addition to the series (both in terms of gameplay and lore), and a nice entry point for newcomers.
Cheat Code Central
Resident Evil 7 truly delivers an experience unlike anything I've even been exposed to in the gaming world. It's fresh, unique, a little bit nostalgic, and downright stressful to play... in a good way. Capcom has taken some seriously impressive strides forward in the franchise and has potentially rescued it from fading into obscurity though this distinct and highly effective new point of view. Resident Evil is back and it will grip your from start to finish until you can't possibly take anymore.
Giant Bomb
I had been underwhelmed by the brief looks at the game I had received prior to release, as most of those snippets involved the early portion that leads you by the hand. While that part of the game boasts its fair share of scares, the really impressive stuff is what comes once things open up. Resident Evil 7 features just the right amount of modern twists mixed into the traditional formula. It may not reach the same heights as an industry-changer like Resident Evil 4, but it certainly ranks among the best entries in the series.
Gamespot
By the end of the campaign, I was ready for the game to be over, but that's okay. RE7 ends just as it starts to outstay its welcome, and after the fact, I felt like I'd survived a truly harrowing journey. The boss fights may be slightly inconsistent and certain sections might drag after a while, but RE7 is still a remarkable success. It has a clear vision and executes it with impressive patience and precision. By returning to horror, Resident Evil has once again become something special.
The Sixth Axis
For them to successfully steer one of their flagships back on track, Capcom has done what many thought was unthinkable. It was less than twelve months ago that the publisher released Umbrella Corps, at which point I – and no doubt many others – were ready to call time on the series. Resident Evil 7 definitely has a handful of weak points, but it's by far the best AAA survival horror game we've seen in quite some time.
WCCFTECH
It's been years since we felt terrified of a game, at points unable to continue without a break, and despite it feeling slightly too long, that's something well worth celebrating. Resident Evil 7 is back, it's brilliant, and it's scary. Who'd have thought we'd be saying that a few years ago? Where it goes next is anyone's business, but Capcom finally seem to be back on track, and we couldn't be happier.
Ars Technica
RE7 doesn't just answer that question. It slams its winning, bloody hand onto a table like a defiant poker champ. To be fair, the game still leaves some VR territory unexplored, particularly things like hand-tracked controllers and room-scale experiences, but its tasteful handling of comfort, presence, and jump-scare gimmicks has no peer. Flat-screen players will have plenty to enjoy as well, but strap into the VR mode if at all possible. Either way, Resident Evil is back.
CNET
Capcom's latest entry in the decades-long series is a tip of the hat to its ancestry and represents what's hopefully the dawn of a new generation of survival horror. Resident Evil 7 plays like a contemporary reboot of what a Resident Evil game has historically felt like, and converts it to a first-person game. When you're done, you'll be wishing for a first-person Resident Evil 4 remake. Incredibly, what seemed to be essentially a Hail Mary for the series' viability -- especially after the disappointing sixth installment -- Resident Evil 7 is a triumph in nearly every way.
Electronic Gaming Monthly
Resident Evil 7 might be the first must-own game of 2017. If you're a fan of survival horror, then you'll recognize the tremendous return to form this was for Capcom's legendary series, and be equally thrilled and terrified by the atmosphere and level of immersion this experience provides. The narrative is driven by a pair of underdogs in Ethan and Mia Winters that you can't help but root for, and the mystery of the Baker plantation will keep you pushing on well after your voice has gone hoarse from screaming so much at your TV. Resident Evil is back—and I don't think it gets better than this.
Pure PlayStation
Resident Evil 7 didn't just take the series back to form, it perfected it. Sure there will be satisfying combat but not before running around for your life filled with dread. The story and plot twists were entertaining as they were interesting and all the scares that came along with it. The voice actors did a phenomenal job and so did the level designers. There was never a time where I felt safe and ready to take on the next challenge. Old schools fans of the franchise will love this outing and is a perfect opportunity for new fans to hop on board. Just don't burn the midnight oil alone.