Nintendo Switch Is Finally Here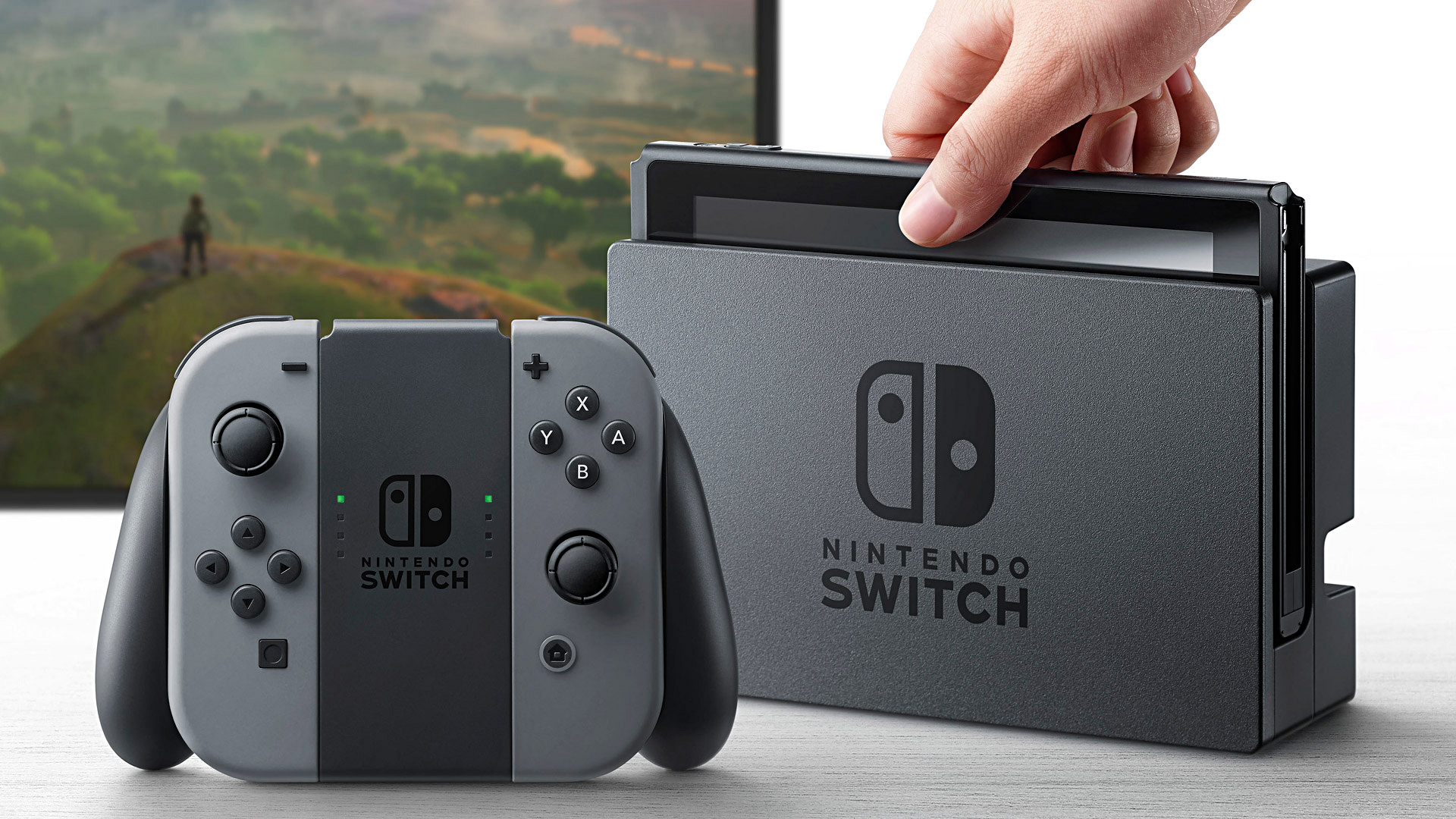 It's finally here. Nintendo first announced the Nintendo Switch last year, giving us a glimpse on what the new console can do. Now we get to see a much detailed look of the all new Nintendo Switch console.
Let's recap what we already know based on their first reveal. The Nintendo Switch is a hybrid system that can be played in 3 different way. Firstly, it is a home console where you can enjoy your game on your big screen TV. Secondly, it is a handheld console where you can bring it anywhere with its built-in display. Lastly, it is a tabletop console where you can place the console on the table via kickstand & detach the controllers so you & your friends can play. 
Now that we get the full detail, let's take a look what we are going to get in the box.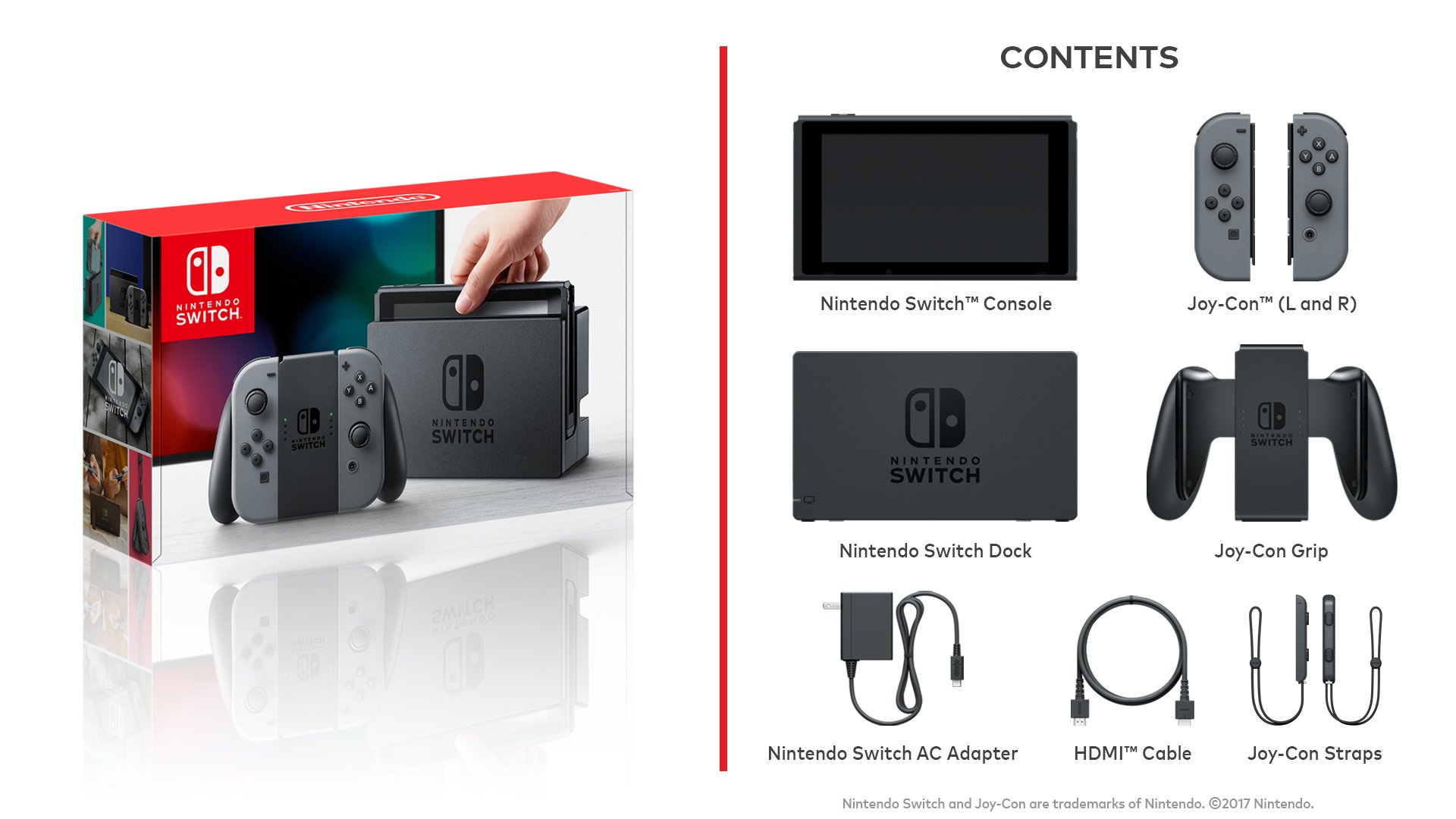 It comes with a Nintendo Switch 6.2 inch 720p touch screen console that has 32GB of internal storage which can be expanded with MicroSDXC cards with built-in battery that can last between 2.5 hours to 6 hours depending the games you play in handheld or tabletop mode.

A Nintendo Switch Dock that would allow you to connect to TV.

A pair of Joy-Con controller which can be attach & detach to the console unit.

A Joy-Con Grip where the pair of Joy-Con controllers attach together to form a fully fleshed out single controller.

A pair of Joy-Con Strap where it is attached to the Joy-Con controller so you wouldn't loose or drop them.

An HDMI cable.

A/C Adaptor.
Speaking about the detachable Joy-Con controllers, it is far more capable than it looks.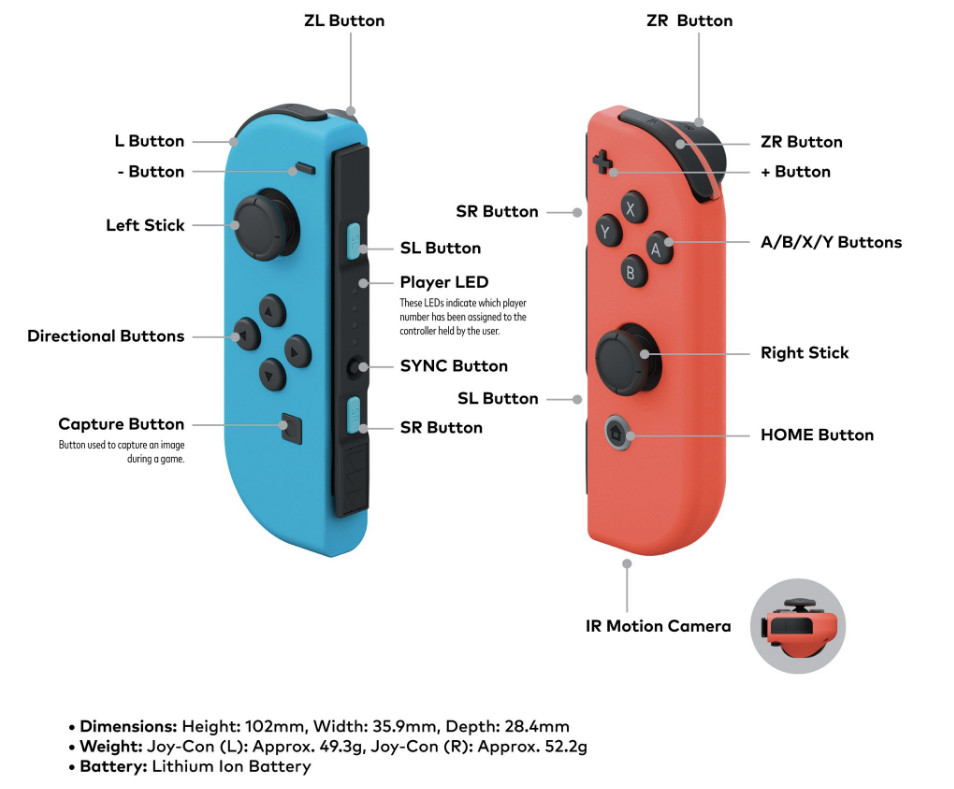 The detachable controllers allow you to use each sides as a standalone controller with full set of buttons. The Joy-Con controller features an IR Motion Camera that can detect hand gestures, proximity & motion support. It also has haptic feedback where it can simulate vibration feedback based on player actions or certain events. Other features are NFC for your Amiibos & image screen capture button. Unfortunately, you cannot capture video clips of your game play.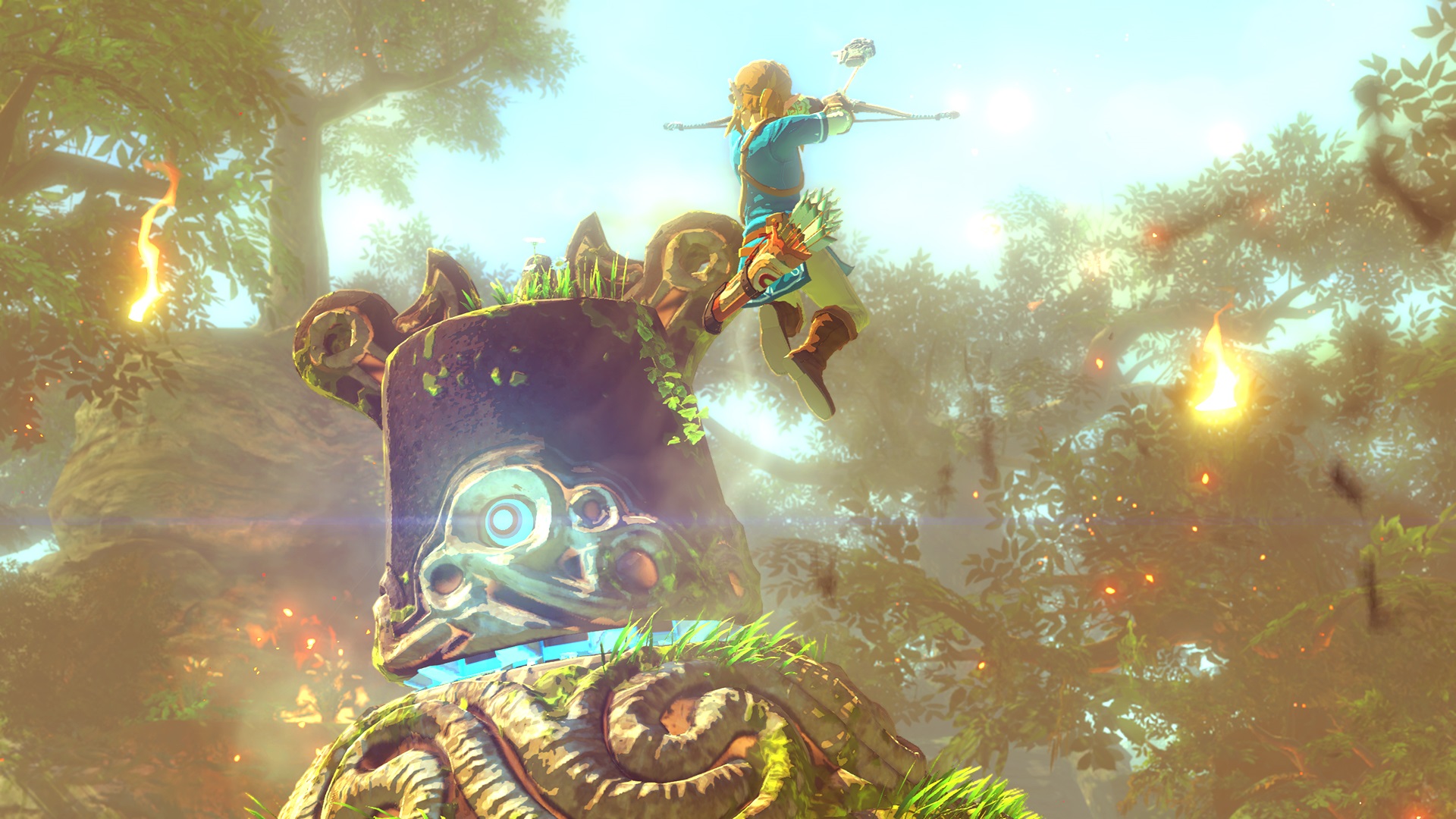 Nintendo announced assortments of games including the highly anticipated The Legend of Zelda: Breath of the Wild as their launch title.
Other games that was announced include:
Has Been Heroes (March 2017)

Super Bomberman R (March 2017)

Snipperclips: Cut it Out, Together! (March 2017)

I am Setsuna (March 2017)

Mario Kart 8 Deluxe (April 28, 2017)

Sonic Mania (Spring 2017)

Puyo Puyo Tetris (Spring)

Lego City Undercover (Spring 2017)

Arms (Spring 2017)

Redout (Spring 2017)

The Binding of Isaac: Afterbirth+ (Spring 2017)

Splatoon 2 (Summer 2017)

NBA 2K18 (September 2017)

Elder Scrolls V: Skyrim (Autumn 2017)

Super Mario Odyssey (Holiday 2017)

Fire Emblem Warriors (Holiday 2017)

Minecraft Nintendo Switch (2017)

Minecraft Story Mode (2017)

Xenoblade 2 (2017)

Ultra Street Fighter 2 (2017)

Dragon Quest Heroes 1&2 (2017)

Dragon Quest X (2017)

Dragon Quest XI (2017)

FIFA 17 (2017)

Steep (2017)

Rayman Legends Definitive Edition (2017)

Shin Megami Tensei (2017)

Farming Simulator (2017)

Fast RMX (2017)

Dragonball Xenoverse 2 (2017)

Stardew Valley (TBD)

Yooka-Laylee (TBD)

Seasons of Heaven (TBD)

The Sacred Hero (TBD)
Nintendo also announced the introduction of paid subscription online service for the Nintendo Switch launching in fall 2017 with free trial period starting in March 2017. The paid subscription online service is similar to PlayStation Plus & Xbox Live Gold, which allow you to do onlne play, chat, exclusive deals & even monthly free game download from NES & SNES classic game library.
Nintendo Switch will be on sale starting 3rd March 2017 & it cost $299.99 in the US.
Sources can be found in the link below: