Horizon Zero Dawn Review Round-Up From Major Sites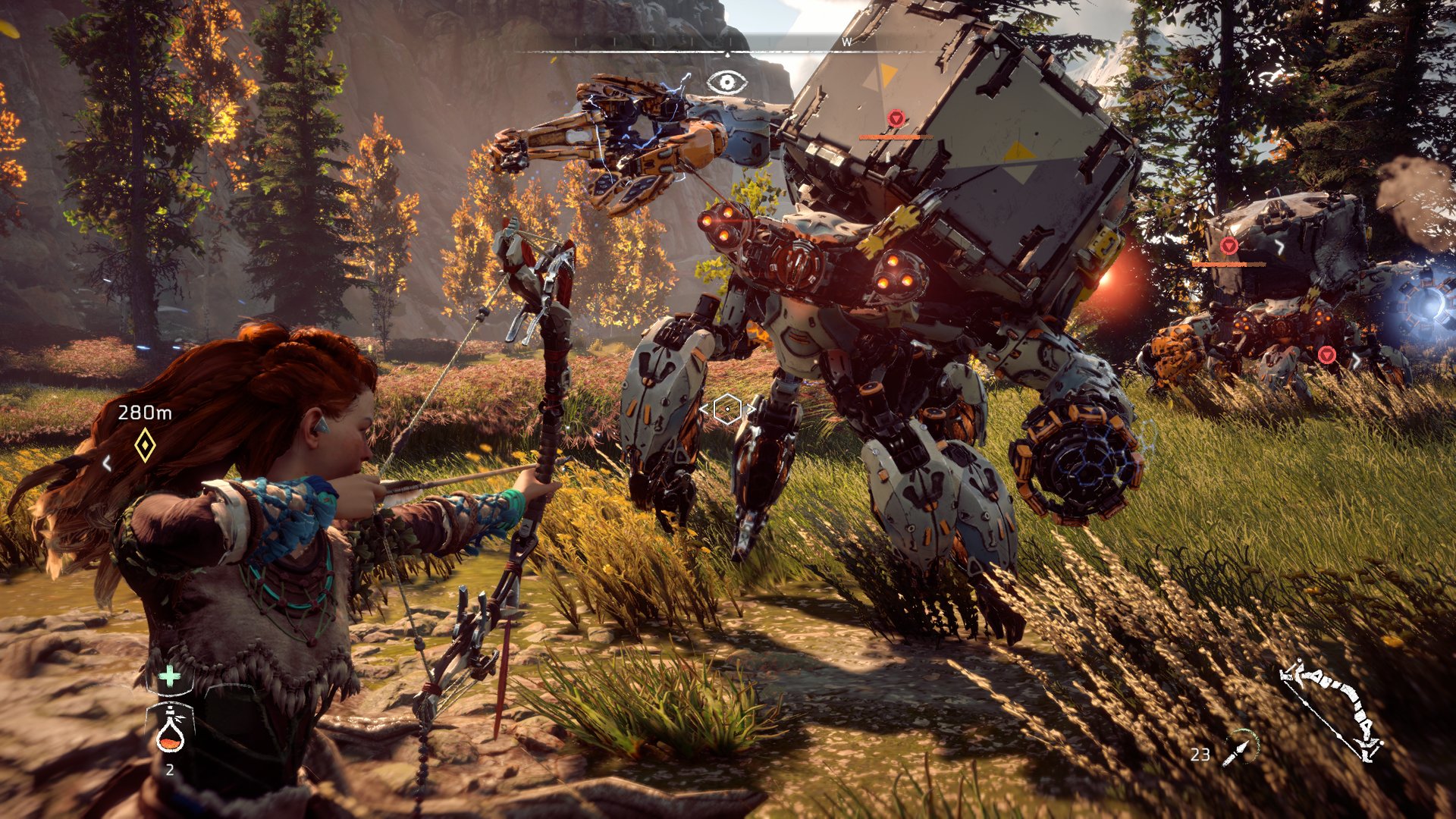 Horizon Zero Dawn game release is just a week away & major gaming sites have given their verdict. The PlayStation exclusive game open world adventure is a huge departure from Guerrilla Games usual first person shooter Killzone franchise. Built with its proprietary Decima game engine, the game does showcase the lush open world with multiple environments and mechanical animals.
The good news is, the game doesn't disappoint. In fact, the game met such critical acclaim that the toughest critics gave it a glowing review. Let's read what game critics have to say about the game.
Gamespot
This is first departure from the Killzone series for developer Guerrilla Games, and though you might think the team took a risk by stepping out of its FPS comfort zone to create a third-person open-world action game, you'd never know it was their first rodeo. For every minor imperfection, there's an element of greatness that recharges your desire to keep fighting and exploring Zero Dawn's beautiful and perilous world. Guerrilla Games has delivered one of the best open-world games of this generation, and redefined its team's reputation in the process.
Giant Bomb
Horizon: Zero Dawn is familiar but also really refreshing. It's not a short game (I spent around 30 hours with it), but the storytelling still feels concise and efficient. The combat has some nice options that make encounters fun, even when you're just stacking up stealth kills from the relative safety of a bush. And the presentation end of the game holds up its end of things with a solid soundtrack, great voice acting, and a cohesive design that makes all its disparate parts fit together. All in all, it's a great game, it's Guerrilla's strongest release to date, and I suspect I'll go back in after the fact to clean up whatever side quests and errands I have remaining, if only to spend a little more time in that world.
IGN
Across a vast and beautiful open world, Horizon Zero Dawn juggles many moving parts with polish and finesse. Its main activity - combat - is extremely satisfying thanks to the varied design and behaviors of machine-creatures that roam its lands, each of which needs to be taken down with careful consideration. Though side questing could have been more imaginative, its missions are compelling thanks to a central mystery that led me down a deep rabbit hole to a genuinely surprising - and moving - conclusion.
Eurogamer
Horizon Zero Dawn is a work of considerable finesse and technical bravado, but it falls into the trap of past Guerrilla games in being all too forgettable. For all its skin-deep dynamism it lacks spark; somewhat like the robotic dinosaurs that stalk its arrestingly beautiful open world, this is a mimic that's all dazzle, steel and neon yet can feel like it's operating without a heart of its own.
Kotaku
Horizon is not what you may have expected from Guerilla Games. For years, the studio has been Sony's Killzone factory, churning out first-person shooters set in a grim world. With Horizon, the studio is finally let loose to show us how much more they're capable of, and what they're capable of is jaw-dropping.
Destructoid
Horizon Zero Dawn is a fascinating premise wrapped in a tortilla of tropes. It has detective vision, radio towers, skill trees, masked load screens (Tony Hawk's American Wasteland gets no credit for popularizing this in 2005, by the way), and a world map littered with billions of points of interest -- all stuff you've seen before. But after you set up and execute a cunning plan to decimate a pack of giant robot crocodiles and that smile hits your face, it's more excusable.
Gameinformer
None of Horizon's faults stopped me from sinking 55 hours into the game, or walking away supremely satisfied with the experience. Horizon may not be a revolution for the open-world genre, but it is a highly polished and compelling adventure that proves Guerrilla is more than a single franchise.
The Jimquisition
Horizon: Zero Dawn is just brilliant. I speak as a critic who has played more "open sandbox" games than any one human should and has grown so very weary of them. I should have gotten sick of this thing in an hour, but I've been glued to it for days and days and I don't want it to end. I love existing in this world – a world of desperate survival but of growing culture and a sense of hope. A world of giant metal animals that promise some breathtaking fights.
A world that's basically Disney's Brave meets The Last of Us, Enslaved: Journey to the West, Far Cry, Mass Effect, The Witcher, Monster Hunter, Toukiden, and loads of other really, really cool shit.
That's basically Horizon in a nutshell – loads of really, really cool shit.
Gamerant
Dark Souls, Far Cry Primal (or any open world Ubisoft game), Uncharted – these are just a few of the games players will cite when finding points of comparison for Horizon: Zero Dawn. But the Guerrilla Games developers have made sure that its game still feels unique by comparison, thanks to a vibrant world bursting with stunning detail, challenging robotic enemies, and a story that explores an uncivilized world in an inventive way. Some weak AI, awkward dialogue sections, and a prototypical open world framework are the game's bigger faults, but they don't weigh the game down to much or ruin the experience. When all is said and done, Horizon: Zero Dawn could easily be Sony's next great franchise, but even as a one-off it's very impressive.
PlayStation Universe
Beneath the beautiful surface is something greater: a triumphant beginning. Horizon enters rarefied air by telling an amazing story and building a compelling world atop excellent, challenging gameplay. With this debut, Guerrilla Games reinvigorates the open-world RPG, setting a laser focus on what's fun and meaningful while permitting only mechanics that complement the player's skill. Its rewards don't come easily, but they are tremendous. Horizon Zero Dawn stands among the greatest debuts in modern gaming and is one of PS4's best games.
Polygon
Those duller moments are a footnote, however, and they did little to slow down the game's momentum and my interest in it. Horizon Zero Dawn thrums with the energy of a creative team finally allowed to explore something new. It builds on elements of open-world and loot-and-craft gameplay that we've seen before, but it does so within a context, a setting and a style that feel fresh. Horizon Zero Dawn discovers a stronger sense of its own personality in one game than Killzone ever managed across half a dozen. Guerrilla Games has long been developing some of the most buzzed-about games in the industry; with Horizon, it feels like it has finally found its own voice, one worthy of all that buzz.
Nerdist
With Horizon: Zero Dawn, Guerrilla Games has made a stunning transition to the world of open-world action RPGs with a brilliant new IP. Though there were a few graphical hiccups, and nitpicks I had about the skill tree, there's no denying the fact that the game is a masterpiece in its own right. The mysterious narrative, strategic gameplay, and beautiful world making this a title worth exploring and one you won't want to miss. Now if you'll excuse me, I've got a few more side missions to track down.
PlayStation Lifestyle
Horizon Zero Dawn is an early contender for game of the year. Guerrilla Games has outdone themselves, in astounding fashion. This is a glorious game, the result of a team of masterful artisans who not only had a story that they wished to tell, but a world that was living inside of them which they wanted to share with us all. Now, we get to play inside their creation, and it is a breathtaking experience to behold. A massive, open world filled with equally massive, terrifying robots, juxtaposed against the beauty of the Earth, nature fighting back the darkness as it tends to do. Horizon Zero Dawn is the kind of game you play to get lost in, and can be enjoyed by players of all types. This could be the beginning of a stellar franchise, and there is something for everyone here. If you own a PS4, you owe it to yourself to give Horizon Zero Dawn a go.
Attack Of The Fanboy
Horizon: Zero Dawn has been a long time coming, but it is finally here and it does not disappoint at all. Featuring a likeable new protagonist in Aloy alongside a compelling story, the game will keep you invested, whether through the main story or even the countless side quests that add more lore to this intriguing world. Complete with a deep combat system and stunning visuals, Guerrilla Games has already raised the bar for exclusives this year with Horizon: Zero Dawn.
Cheat Code Central
When all is said and done, Horizon Zero Dawn far exceeds my expectations and is on course to be one of the best titles the gaming community has seen in a long time. A critic's review doesn't do justification to the awesomeness contained within this living work of art. It's a story-centric adventure that will certainly send you on a captivating journey from start to finish, and then some. The beautiful thing about Horizon Zero Dawn is that it truly reminds me of the first time I stepped foot into the shoes of Master Chief. This is certainly something special that must be experienced first-hand, It rightfully lands atop my list of best games in 2017.