Ghost of Tsushima Review Round-Up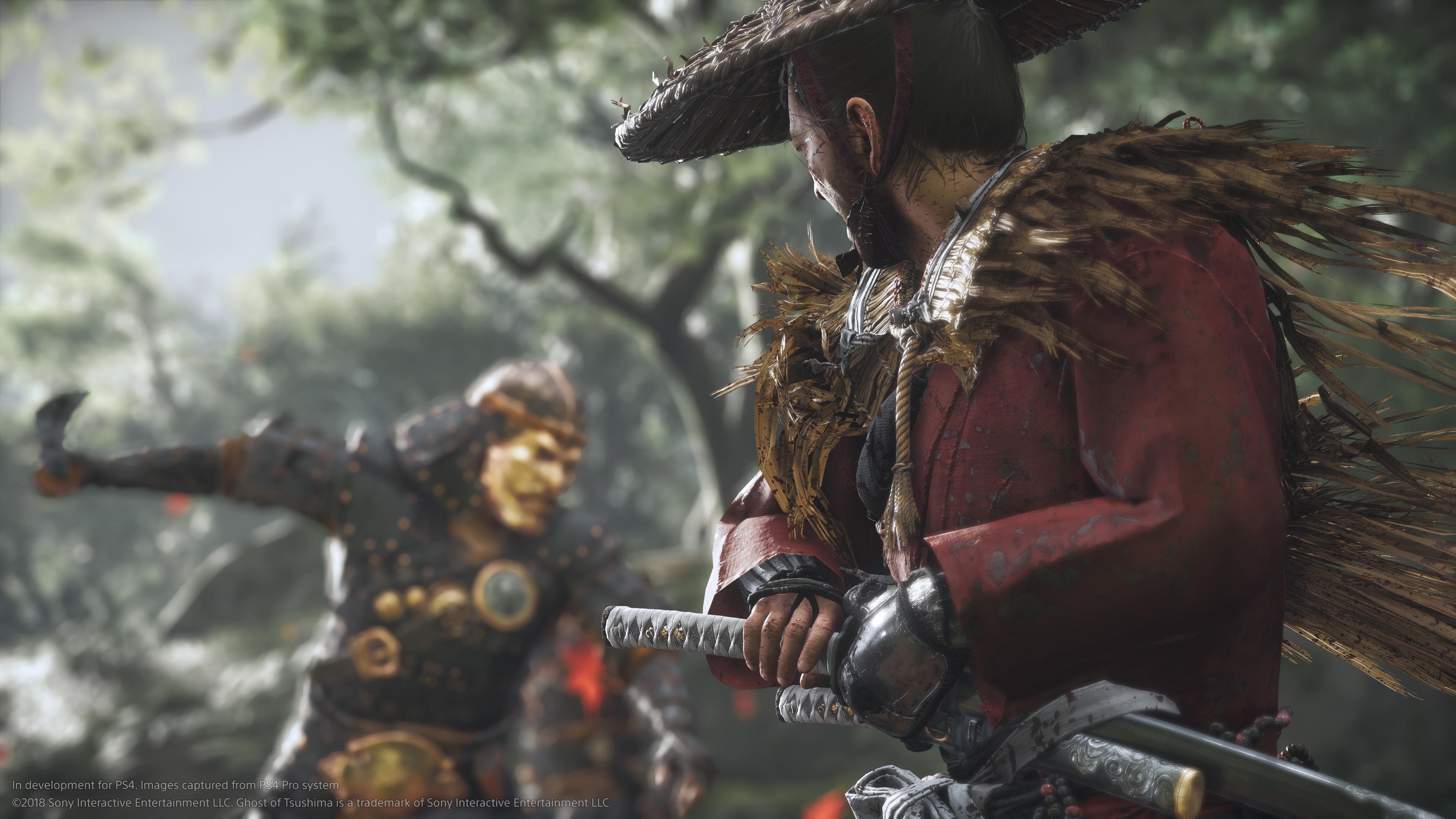 Sucker Punch's Ghost of Tushima is coming this week 17th July 2020 and we have a wave of reviews from major websites. It has been almost 6 years since Sucker Punch Production last made Infamous 2nd Son and Infamous First Light and they have made an incredible looking period piece of ancient Japan.  Does Akira Kurosawa inspired open world samurai game evoke the feelings of reviewer's samurai spirit when playing the game? Let's find out.
IGN
Ghost of Tsushima is an enormous and densely packed samurai adventure that often left me completely awestruck with both its visual spectacle and excellent combat. By steadily introducing new abilities instead of stat upgrades, its swordplay manages to stay challenging, rewarding, and fun throughout the entire 40 to 50 hours that it took me to beat the campaign. A few aspects are surprisingly lacking in polish in comparison to other first-party Sony games, especially when it comes to enemy AI and the stealth part of its stealth/action split. Still this is an extraordinary open-world action-adventure game that solves several issues that have long gone unaddressed in the genre, while also just being an all around samurai slashin' good time.
Rating: 9/10
PlayStation LifeStyle
Ghost of Tsushima ends the current generation of consoles on a high note. A fantastically gorgeous world sets the stage for high-stakes close quarters combat, with multiple enthralling stories told over many chapters that keep the player moving across the island. Core combat is rewarding, and while enemy AI is disappointing outside of combat, all other aspects of Ghost of Tsushima have been lovingly crafted, and will be thoroughly enjoyed by players of all types. It's not Sekiro or Dark Souls/Bloodborne difficult, but challenge can be found for those who seek it. Ultimately, Ghost of Tsushima allows you to pick up a sword and become one badass samurai, and have fun while avenging your fallen brethren.
Rating: 9/10
The Sixth Axis
Ghost of Tsushima is an artistic triumph, capturing a real cinematic feel through its visuals, immersive world and soundtrack. However, Jin is a serviceable main character and he and his journey to save Tsushima is often overshadowed by secondary characters and smaller, more personal stories found in the side quests. Throw in some formulaic missions and an awkward user interface, and Ghost of Tsushima is at times more style than substance.
Rating: 8/10
Gaming Age
Ghost of Tsushima takes the best elements of Assassins Creed and Far Cry, throws in some of the signature Sucker Punch flair that made Infamous so successful and ends up being something that is both familiar and unique at the same time. The stealth elements are not the strongest, and aside from the missions requiring stealth, I almost always took the more forward approach to combat, but the freedom to DO that is part of what makes the game so good. Sony has consistently released incredible, single player, story focused exclusives for the PS4, and Ghost of Tsushima stands tall as one of their best yet.
Rating: A
We Got This Covered
Ghost of Tsushima is a riveting tale complemented by infinitely fascinating combat, inventive navigation mechanics, and arresting visuals, effortlessly earning itself a spot as one of the absolute best games released on the PlayStation 4.
Rating: 5/5
Screen Rant
There aren't many things completely "new" in Ghost of Tsushima, although players likely haven't come across many navigation options as fun to use as Tsushima's Guiding Wind, or engaged in a peaceful activity like writing haiku while sitting across from a waterfall to prepare for battle, very often. It's the way Ghost of Tsushima combines elements players are both familiar and unfamiliar with that makes it such an enjoyable experience, and one which players will want to continue playing long after the credits roll. Ghost of Tsushima is the best Assassin's Creed game there is, and likely the closest many users will ever get to experiencing what it's like to be a samurai in 11th century Japan.
Rating: 5/5
Dark Station
I don't do it often but as of this review, I'm two trophies away from earning a Platinum. I'm making the effort to get it because that means I can spend more time with this wonderful game. With the main story and all of the tales completed, I'm just not ready to say goodbye yet. What Ghost of Tsushima lacks in terms of gameplay originality, it more than makes up for it through the high finesse of its craft. I grew obsessed with the game during the review period and when I wasn't playing it, I was always thinking about it. The disparate mechanics seen in other games have been reshaped and retooled until no hard edges exist, creating an experience that feels smooth and responsive. Tsushima is a gorgeous setting with numerous biomes that benefit from amazing lighting effects and brilliant texture work. Jin's story is a fascinating one as he struggles with his growing identity as the Ghost amidst others taking him to task for using tactics unbecoming of a samurai. Ghost of Tsushima is a game I could not put down because the combat is so good, the world is fun to explore, and the stories it has to tell are rich and compelling. And I'm already anxiously awaiting a sequel.
Rating: 5/5
Game Informer
Ghost of Tsushima captures the mystique, fierce violence, and barely contained emotional angst of the great samurai films. The line of inspiration is clearly purposeful; Sucker Punch included a gorgeous "Kurosawa Mode," which sets a black-and-white, film-grain, audio-treated effect that doubles down on the classic cinematic vibe. It's well worth turning on, if only for a few missions. But even beyond that cool feature, this is a game that nails the aesthetic it's shooting for, firmly establishing itself as the medium's defining samurai saga.
Rating: 9.5/10
Gaming Trend
It's a bit meta, but part of reviewing a game is knowing that you likely won't have the time to hit every objective in time for release. Ghost of Tsushima hooked me so completely that I had to finish everything. I've found every Shinto Temple shrine, tameshigiri (bamboo cutting) stand, hot spring, Kami shrine, found and upgraded every piece of armor and weapon, wrote every haiku, solved every tale (side missions), maxed out all skills, uncovered every Pillar of Honor (collectible sword cosmetics), and lit every lighthouse. I humbly offer my own haiku as I close the book on this phenomenal adventure.
Blossoms in the wind
My sword is sheathed and now rests
I search for flowers
Rating: 95/100
Destructoid
With Ghost of Tsushima under its belt, Sucker Punch deserves to be in the same conversation as Insomniac, Naughty Dog, and Sony Santa Monica. If this generation is to wrap up soon, it's fitting that it'll end with Tsushima: one of its most beautiful games thus far.
Rating: 9.5/10
CGM
There are a few rough patches, however. It is never clear what sort of drop will allow you to land comfortably or what will just kill you outright. In fact, climbing, jumping, or otherwise navigating difficult terrain can be a clunky affair. One of my favorite features were the stand-offs, where Jin approaches a group of enemies and takes one on one on one before the fight really gets going, but it was never clear what conditions were necessary to bring up the button prompt for it.
That being said, I adore Ghost of Tsushima in some pretty major ways. It certainly isn't a perfect game, but it is fairly close. I can see myself sinking an egregious amount of time perfecting my fighting skills or just hunting down all the rad cosmetic gear strewn about the world.
Rating: 9.5/10
Worth Playing
Ghost of Tsushima brought me epic joy, which is a special thing to find in the bottomless library of experiences out there. I'm deliberately leaving out the description of a moment in the game during the second act that is probably one of the dopest sequences I've ever seen. I don't want to spoil it. I'd rather you see it for yourself, either by playing or seeing it on the internet later. When the credits rolled after the final scene, I felt like I was in a movie theater and ready to applaud. I got to binge-watch and play the samurai story of my dreams. For anyone else who's ever picked up a long, empty wrapping-paper tube, held it with two hands a few inches apart, and swung it like a samurai, I have good news: We found it. We've got our game.
Rating: 9.4/10
Digital Trends
Ghost of Tsushima is one of the best games I've played this year — it might've been my favorite, if not for The Last Of Us Part II.  Jin Sakai's story is violent but thoughtful, delivering an experience that feels unique on the PlayStation 4 despite the fact 2020 is the console's last year before the PlayStation 5 makes it obsolete.
Rating: 4.5/5
Game Rant
The game may not be an evolution of the genre but it is one of the best versions of it. By mixing a beautiful setting with visceral combat, Ghost of Tsushima hopes that its lesser elements won't be as bothersome and its story will be able to propel players forward. Personally, the compulsion to uncover every question mark, complete every Tale, and master the combat was very strong. If the idea of controlling a deadly Samurai in an Assassin's Creed-style open world sounds enticing, the game more than delivers.
Rating: 4.5/5
PlayStation Universe
Ghost of Tsushima elevates the existing open world adventure template with a fantasy-free Samurai adventure that deftly pays loving homage to the Samurai cinema of old. While your mileage may vary according to your level of open world fatigue, Ghost of Tsushima undoubtedly remains not only one of the best open world romps money can buy and a stunning PlayStation 4 exclusive, but also Sucker Punch Productions finest effort to date.
Rating: 9/10
Push Square
Ghost of Tsushima is a joy to play and a joy to behold. Sucker Punch has crafted one of the most memorable open world games of this generation, buoyed by an immensely satisfying combat system and an engaging, dramatic story. Unlike many of its open world peers, it's a refined and focused experience -- gripping and immaculately presented at its best. A fitting first-party swansong for the PS4.
Rating: 9/10
Games Radar +
You are not prepared for Ghost of Tsushima. Your eyeballs aren't ready, your life isn't ready, your soul isn't ready. No matter how much of a Sucker Punch fan you are, no amount of playing the Infamous series could have prepared you for this epic game. It's Assassin's Creed Japan with a Red Dead Redemption 2 sized world and an entire library's worth of Akira Kurosawa movies melted and shot directly into its veins. After days and days spent wandering forests, decapitating warlords, and stopping every now and again for a little toot of my flute, I still wanted more when the breathtaking finale signaled the end of Jin Sakai's story.
Rating: 4.5/5
God Is A Geek
Ghost of Tsushima is a landmark game that blends its narrative with its visuals perfectly, and has delicious, satisfying combat to boot. Climbing is clumsy, and the story takes a while to get going, but overall it's a truly wonderful game.
Rating: 9/10
ACG
It's definitely worth buying. I would say this is one of the most enjoyable games I've played this year. It means a lot of the things that I've always wanted in a HUD and a system that I didn't know I wanted. It pushes out that LOD and that draw distance to insane levels which really does make the world feel completely different graphically. It's got some issues. It's not exactly perfect but there's this hypnotic quality right now in open world game and I don't even hate of them. It's just that they all feel pretty samey. This one certainly does have a structure that is somewhat the same but a lot of things that tries to do, it allows you to at least experience what they want you to experience which is being that character a little easier. Lots of fun with this game and I will for sure be returning to it.
Rating: Buy