Final Fantasy VII Remake Review Round-Up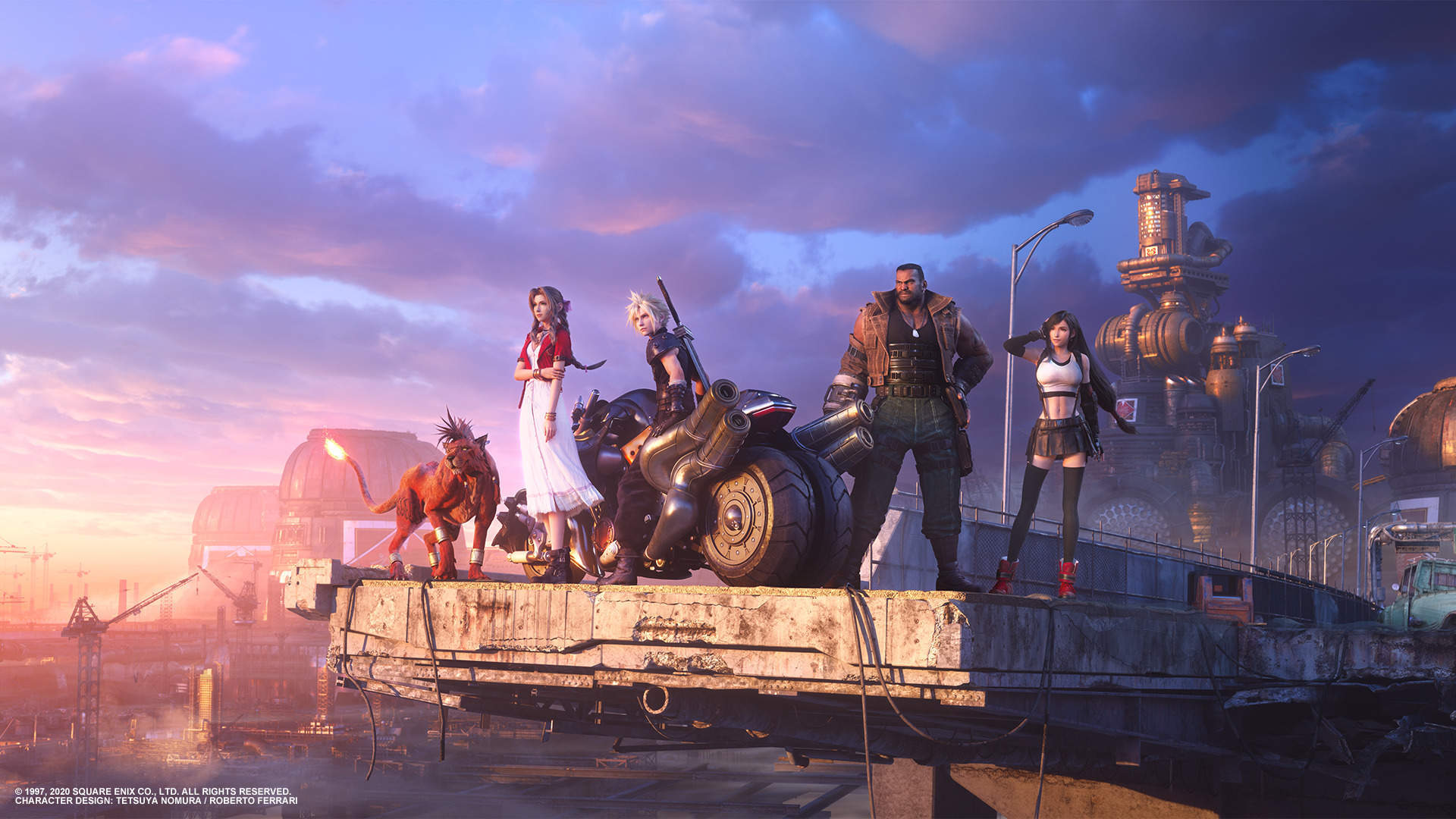 Final Fantasy VII Remake is a long time coming when we were first teased with a PlayStation 3 technical demo at E3 2005. Fans everywhere were hoping & begging for the classic to be remade into a modern retelling of the beloved games but it was nothing more than a pipe dream....that is until 10 years later. Square Enix revealed to the world at E3 2015 that Final Fantasy VII Remake is coming to PlayStation 4 consoles. 5 years later, we are going to get our hands on one of the most anticipated RPG ever made.
Review copies has been handed over to major gaming & news outlets & they have made their verdict. We have of course, tons of question in mind. So let's see what the critics has to say.
Kotaku
Final Fantasy VII Remake is not what I expected. It's a grand, ambitious, beautiful experiment, a bold new take on a game that millions of people remember fondly. It sometimes feels shackled by the weight of two decades worth of expectations, but it handles those restraints with aplomb. I certainly can't wait to see what's next. As a great man named Barret Wallace once said: There ain't no getting off this train we on.
Eurogamer
One of the worst things about the Final Fantasy 7 Remake is how long we'll have to wait for the next instalment - and the other thing we can't talk about for fear of spoilers. But I feel safe in saying that, for the most part, the Final Fantasy 7 Remake gave me everything I was looking for. What I think it got right another fan may disagree with, and that doesn't mean either of us are wrong. Changes have been made, but the core essence and spirit of Final Fantasy 7 has been preserved brilliantly. Will it still be enjoyable and accessible to newcomers? That I can't be so sure of, but I believe so. What future instalments have in store, who knows, but this Remake gives us some beautiful moments in a universe some players have spent 23 years falling in love with. That alone is pretty special.
The Sixth Axis
An utter joy to play from start to finish, packed with memorable scenes, moustache-twirling baddies, and epic battles. The first part of Final Fantasy VII Remake isn't just polished, it's opulent.
PlayStation Lifestyle
Final Fantasy VII Remake is perfection. It breathes life into the cold steel of Midgar, adding weight and dimension to that which was once simply an introduction to a more grand adventure. It's filled to the brim with reverent fan service that respects the source material while occasionally taking leave to subvert expectations. Final Fantasy VII is one of the most defining games of all time, and Square Enix's modern-gen treatment of Midgar lives up to the legacy of the original in every way imaginable. The worst part is leaving us off on the cliffhanger we all knew was coming, waiting for the rest of their journey, but as much effort as clearly went into Midgar alone, it's bound to be worth the wait.
Gamespot
Regardless of your history with the original game, Final Fantasy VII Remake is an astounding achievement. The wait for its release was a long one, but in gameplay, story, characters, and music, it delivers--the wait was worth it. For first-time players, it's an opportunity to understand why Final Fantasy VII is held in such high regard. It's the chance to experience a multifaceted story that grapples with complex subject matter, be in the company of memorable characters, and be moved by their plight. For returning fans, this isn't the Final Fantasy VII your mind remembers, it's the one your heart always knew it to be.
IGN
The expectations around Final Fantasy 7 Remake are sky high, and it mostly manages to deliver. Its combat is top notch, its enemy variety kept me constantly entertained, and seeing this snippet of story fleshed out with real emotional arcs and the previously hidden humanity behind Midgar filled me with pure joy. The boring RPG filler and Kingdom Hearts-esque convolution that was inserted in between did stop my ear-to-ear grin from being constant, but never long enough to kill the mood completely. That leaves this remake as one that still delivered on letting me relive (part of) a classic in stupendous fashion, while also standing as a great RPG all its own.
VG247
While I'm excited for the next game, I felt deflated for an entire day after the credits rolled. But the journey is completely worth it. Midgar is so well-realised, the main characters are wonderfully done, and the battle system is masterful. I can see myself moseying through the entire 40 hours again. At times it felt almost overwhelming to actually be playing it – like Square Enix had made a game specifically for me. I just wish the loyalty to the source material lasted throughout. Despite that, there's no denying that this is the best Final Fantasy has been in a long time.
DualShockers
Final Fantasy 7 Remake doesn't replace the original. That'll be true even when all parts have been fully released. Final Fantasy 7 will be a generational touchstone of gaming with a legacy that has lasted decades, and will remain long after the hype for Remake has cooled. I don't foresee that same legacy being granted to Remake once the dust has settled, but it nonetheless stands with Resident Evil 2 Remake as a testament to the quality such a project can aspire to.
Destructoid
I kind of agonized over rating Final Fantasy VII Remake. It's going to garner a lot of discussion from people who are both blown away by the new treatment and disappointed by it, and those feelings are not mutually exclusive. In the end — after thinking on it for some time and removing nostalgia from the equation entirely — I came to the conclusion that this world is full of powerful characters and a setting that's worth remembering: remake or not.
Attack Of The Fanboys
Taking one of the most genre defining and well loved games of all time and rebuilding it from the ground up was a tall order, but Square Enix pulled it off with modernized gameplay and a fleshing out of the world and many characters compared to the original. While only featuring a portion of the story fans know and love, Final Fantasy VII Remake still manages to feels like a complete game, yet still part of a larger narrative to come, and will have fans waiting anxiously for the next entry as soon as they finish.
Game Informer
Regardless of what the future holds, Final Fantasy VII Remake finds an impressive equilibrium between its past and its present. Square Enix nods to the original without depending on that familiarity, crafting a distinctive world and exciting combat system that feel modern. The new approach still has rough edges, but that doesn't stop Final Fantasy VII Remake from carving out its own legacy.
Games Radar +
Final Fantasy 7 Remake is a spectacle from start to finish. You can tell how much care has been taken to bring this story back to life for modern audiences. As a retelling of a classic with plenty of surprises in store, the Remake offers engaging experiences for longtime fans and newcomers alike. Its action-packed combat, engrossing story, and gorgeously detailed setting successfully reminds you why Final Fantasy 7 is beloved by so many. 
PlayStation Universe
Putting the few slight issues aside, Final Fantasy VII Remake stuns with how it expands on the original. At the same time, it takes its own risks and creates its own footsteps. Final Fantasy VII Remake is beautiful, engrossing, and hard to pass up. This game is meant for both fans and newcomers, no matter how learned, and the sheer level of time and effort put into this reimagining truly shows through and through.
Trusted Reviews
This is one of the finest JRPGs in recent memory, setting a new benchmark for visuals and real-time combat in the series while managing to begin retelling one of gaming's greatest tales in grandiose fashion. It's just a crying shame we have to twiddle our thumbs and wait for the next chapter.
Screen Rant
There's a lot to say about Final Fantasy 7 Remake - how it wasn't afraid to shake up the story in parts where it mattered, or how it trusted its characters to hold up under increased screen time and scrutiny. How it's a game that will frustrate with difficult boss mechanics or out-dated mini-game mechanics in an effort to preserve nostalgia or create a challenge, and how it perseveres despite that through sheer charm. Above all, though, Final Fantasy 7 Remake is a picture-perfect return to Midgar. It's one that's been a long time coming and, as it prepares its players for the next installment, it's possible that it's also laid the foundation for what could be the greatest series of Final Fantasy games ever put together - providing the quality holds up once the story begins to really expand in the next installment, of course.
WCCFTech
Final Fantasy VII Remake is a masterful modernization of the series' classic formula. The game is an extremely solid JRPG that looks, sounds and plays great, despite some pacing issues and linearity. That said, the unexpected story twists may sour the experience a bit for those who expected a faithful remake.
God Is A Geek
Final Fantasy VII Remake is simply stunning. It's a mesmerising video game from start to finish, and even in its many slower moments there's humour to be found, or scraps of character, or Easter Eggs for the observant fan. It's sadly not perfect, but it's more than I could have hoped it would be, and a staggering masterclass in remaking something beloved for a new – and old – audience.
Game Revolution
My recommendation is to go into Midgar with an open mind and allow it to wash over you. Final Fantasy VII Remake is a video game experience we only get every once in a while, and it's one of the best titles I've ever had the pleasure of playing.