PALADONE SUPER MARIO BROS MINI QUESTION BLOCK ICON

PALADONE SUPER MARIO BROS MINI QUESTION BLOCK ICON
---
* Free shipping delivery to East Malaysia
* Usually ships within 1-3 business days
Super Mario Bros. Mini Question Block - Decor Light
Enjoy the magic of Mario with this Super Mario inspired Mini Question Block Light featuring official game sounds! A 3in light (approx. 7.6cm), this is a miniature icon from the much loved games, and is ideal for bedrooms or desk spaces at home or work. Based on the classic question blocks from the games, this distinctive design immediately brings to mind the coins and bonuses that were used to help the moustachioed hero on his adventures. One of the most popular and instantly recognizable video game characters of all time, Mario first appeared in the iconic 1981 arcade game Donkey Kong under the name 'Jumpman'. Since then, Mario has become a legend within popular culture and has been a defining figure not just for Nintendo, but for the whole gaming industry. Since hitting the big time with Super Mario Bros. Mario has had huge success with other instalments such as Super Mario Galaxy, Super Mario 3D World and the hugely popular racing spin-off Super Mario Kart. A great gift for gamers or fans of the famous plumber, the Mini Question Block Light is the perfect piece of Mario memorabilia. The Mini Question Block Light is an officially licensed Super Mario product. Touch on/off feature. AAA batteries not included.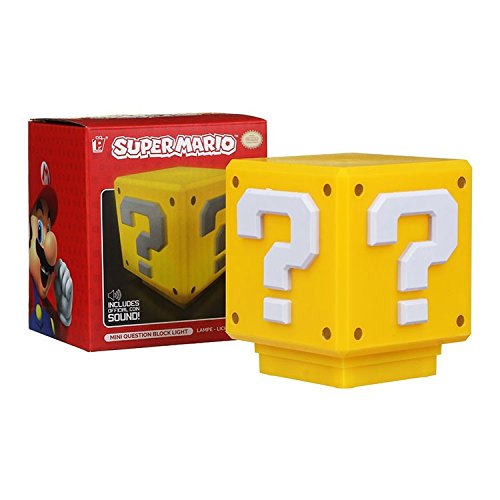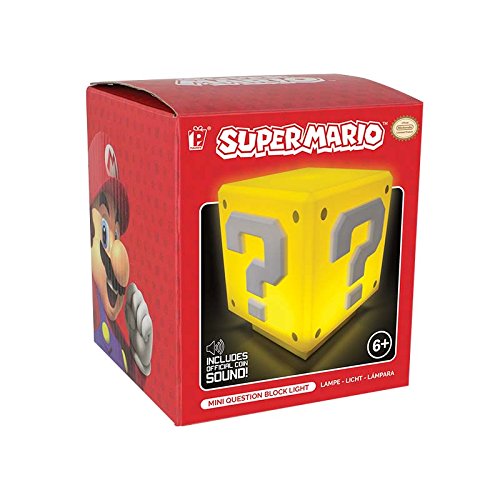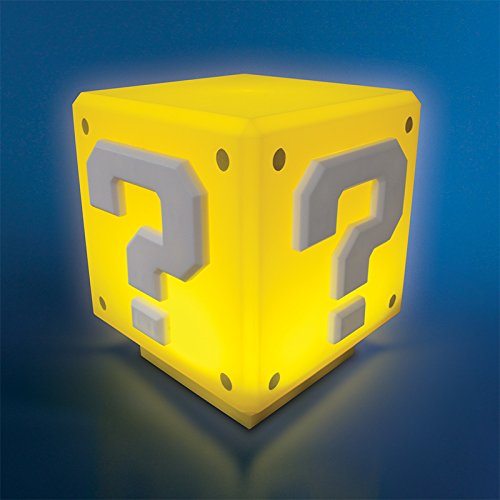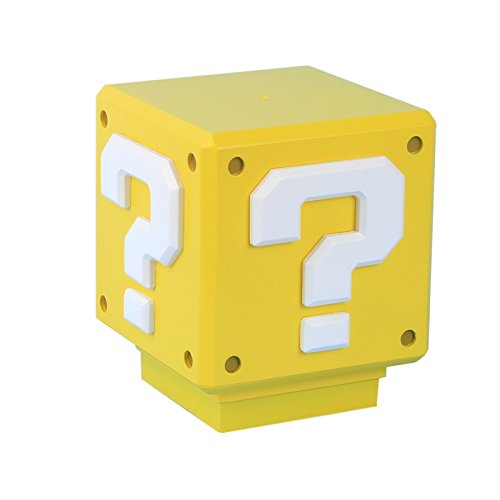 Features
Plastic
LEVEL BOOST: Designed like the iconic question block featured in the classic Super Mario series of video games, this Super Mario Bros. Mini Question Block Light will level up any room!
COLLECTOR'S ITEM: Mario and Luigi have become instantly recognizable icons of popular culture, and are favorites among generations of gamers. Add this Mini Block Night Light to your collection today!
POWER UP: Dual powered by either USB or batteries (batteries not included). A USB micro cable and instruction leaflet included. The light has a touch on/off feature.
SUPER MARIO DÉCOR: Perfect for a Super Mario Brothers themed bedroom or party, this Super Mario Bros. Mini Question Block Night Light will shine brighter than ever making the room or party a hit!
OFFICIALLY LICENSED: Super Mario Question Block Night Light is an Officially Licensed Nintendo product. Push down on/ off function. Measures approx. 7.5cm (W) x 7.5cm (L) x 7.5cm (H) including base.