Horizon Forbidden West (Collector's Edition) - (R3)(Eng/Chn)(PS4/PS5)(Pre-Order)
Horizon Forbidden West (Collector's Edition) - (R3)(Eng/Chn)(PS4/PS5)(Pre-Order)
---
* Free shipping delivery to East Malaysia
* Usually ships within 1-3 business days
Join Aloy as she braves the Forbidden West – a majestic but dangerous frontier that conceals mysterious new threats.
*Estimated Price RM 839 ++
Official Release Date: 18th February 2022. Product arrival in store within 1-3 working days after official release date
The RM100 stated in the price refers to deposit. Final price is to be confirmed. Upon game pre-order cancellation more than 1 weeks before game release, deposit will be refunded in 7 working days. Deposit is non-refundable if pre-order cancellation is less than 1 week before game release. Pre-ordered games cannot be changed less than 1 week before the game release. Upon game arrival, our customer service personnel will contact you for the remaining balance of the price. Make sure to include valid contact no & email address during checkout process. Customer who pre-ordered their game will have 30 days period to collect their game after it is made available to purchase in store. After 30 days, game pre-ordered is considered cancelled & deposit forfeited
Explore distant lands, fight bigger and more awe-inspiring machines, and encounter astonishing new tribes as you return to the far-future, post-apocalyptic world of Horizon.
The land is dying. Vicious storms and an unstoppable blight ravage the scattered remnants of humanity, while fearsome new machines prowl their borders. Life on Earth is hurtling towards another extinction, and no one knows why.
It's up to Aloy to uncover the secrets behind these threats and restore order and balance to the world. Along the way, she must reunite with old friends, forge alliances with warring new factions and unravel the legacy of the ancient past – all the while trying to stay one step ahead of a seemingly undefeatable new enemy.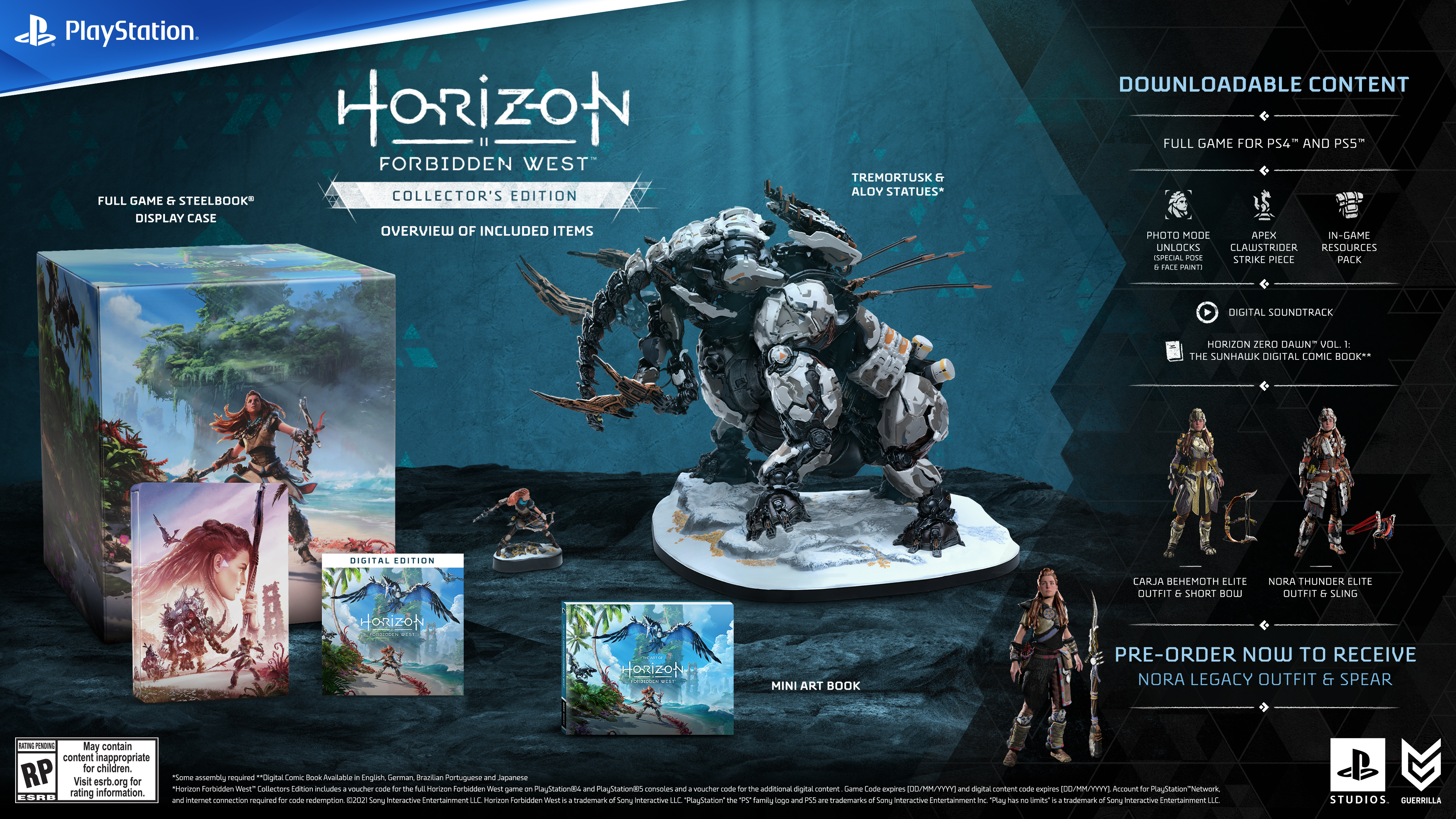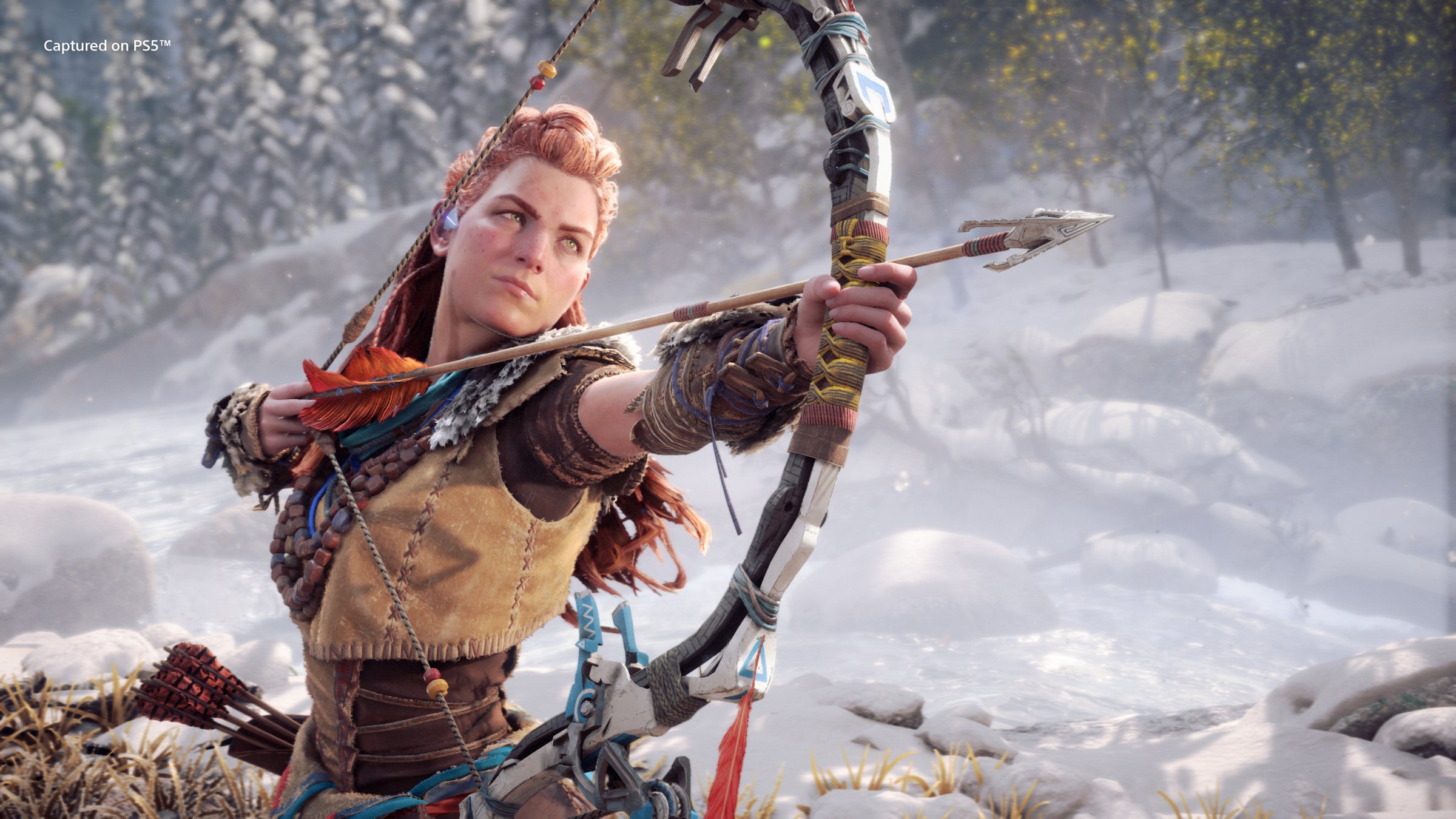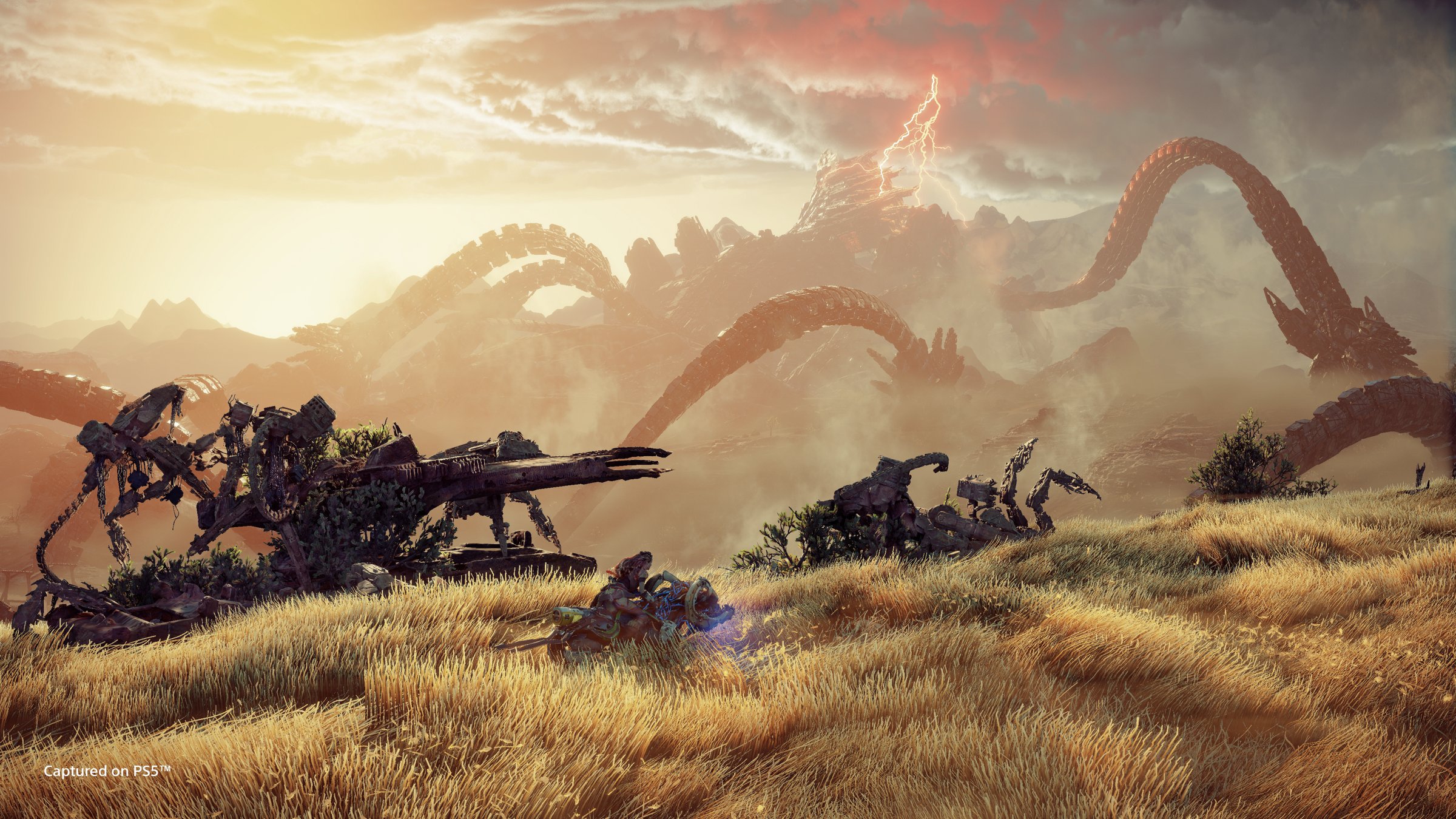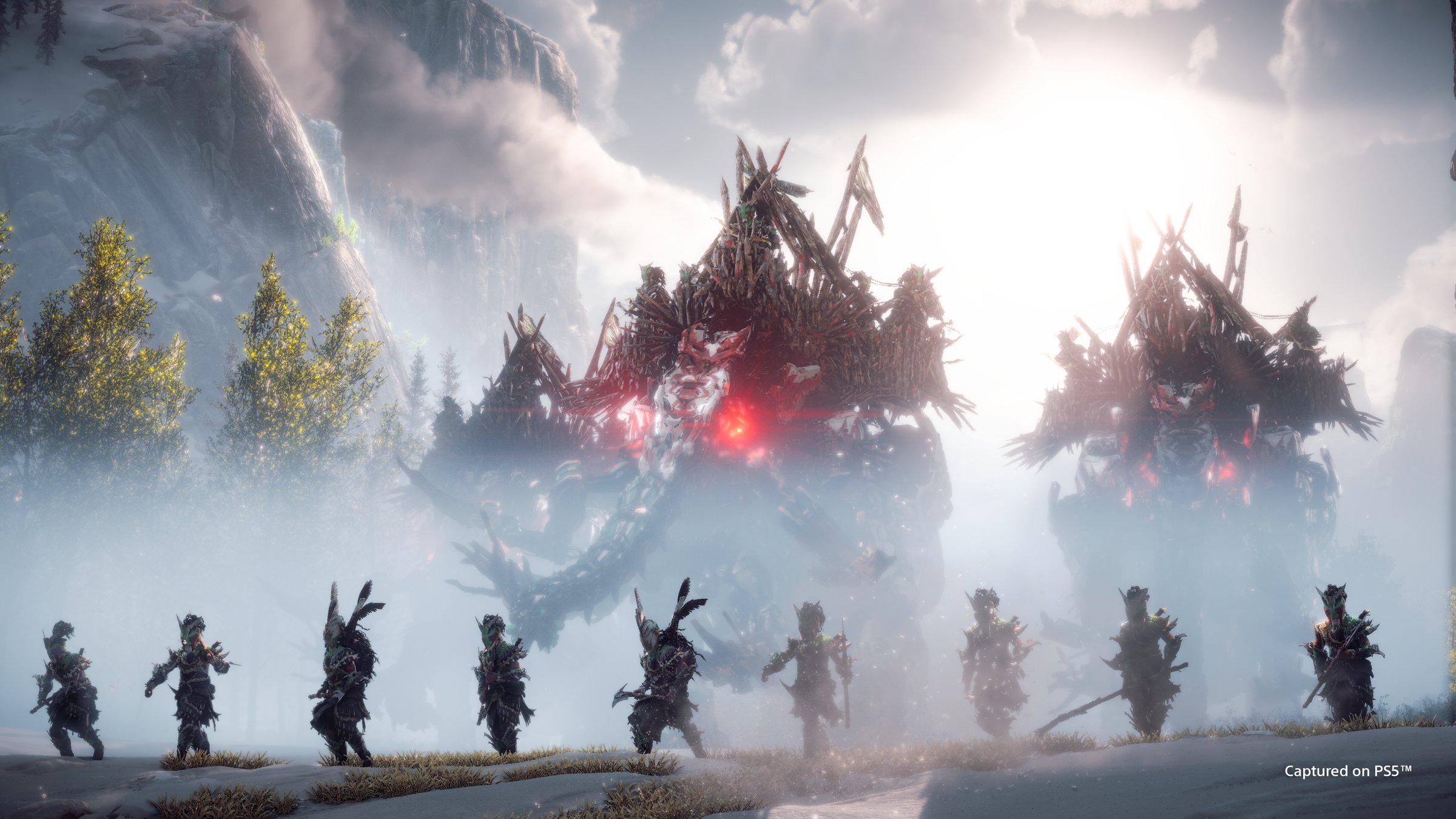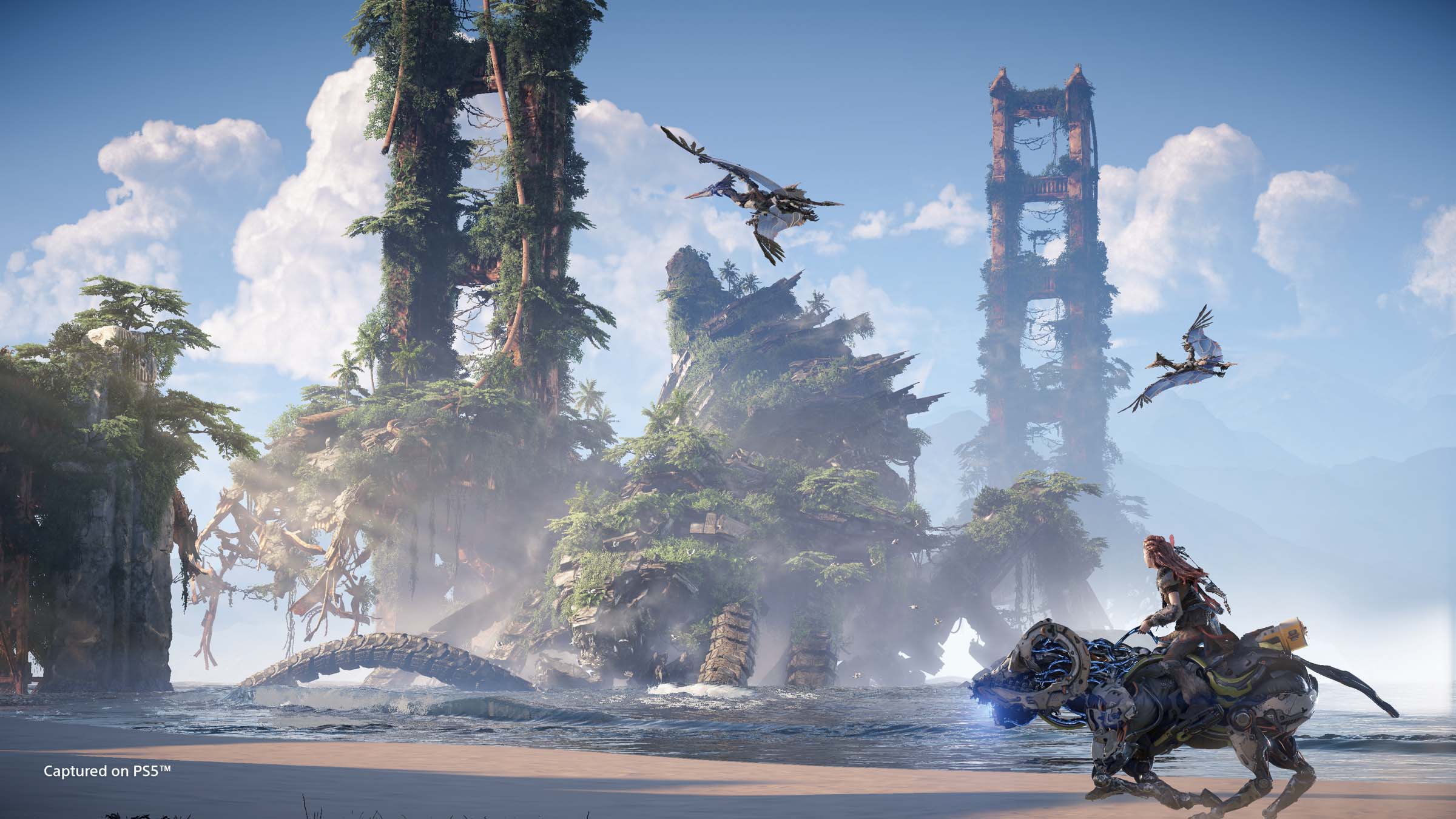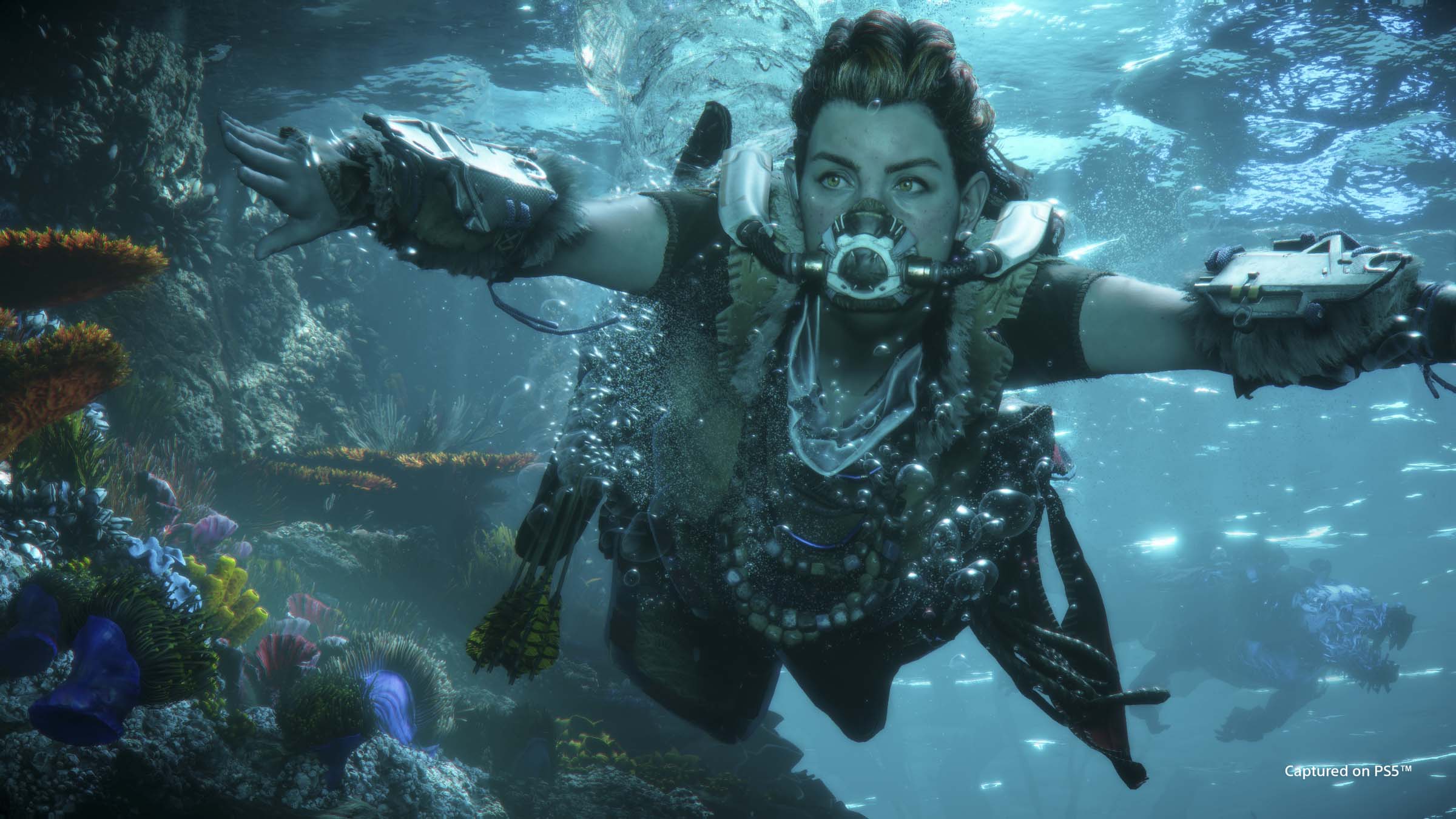 (An epic action RPG adventure.)
Brave an expansive open world 

- Discover distant lands, new enemies, rich cultures and striking characters.

A majestic frontier

 - Explore the lush forests, sunken cities and towering mountains of a far-future America.

Confront new dangers

 - Engage in strategic battles against enormous machines and mounted human enemies by using weapons, gear and traps crafted from salvaged parts.

Unravel startling mysteries

 - Uncover the secret behind Earth's imminent collapse and unlock a hidden chapter in the ancient past... one that will change Aloy forever.
PlayStation 5™ features
Fast loading:

 Fast-travel across the map and get back into the game almost instantly with the PS5 console's ultra high-speed SSD and fast load times.

Stunning visuals:

 Experience the vast world of Horizon Forbidden West in stunning 4K and HDR.* From mountain tops to small sprigs of leaves, everything is realized to incredible detail at an enormous scale. Targeting 60fps, Performance Mode further enhances smoothness of movement, animations and controls.

Haptic feedback: 

Get closer to each fight Aloy takes on with the DualSense™ wireless controller's haptic feedback. Feel the sensation of blades of grass you brush past when making a stealth approach, melee swipes you make against machines and armored humans, and the directional impact from enemy attacks when you attempt to evade.

Adaptive triggers:

 Enjoy a new level of immersion when you interact with different objects using the DualSense wireless controller's adaptive triggers. Feel the tension in the string of your bow, the pull of your new grappling tool and the resistance of the triggers on heavy tribal and mechanical weapons.

Tempest 3D AudioTech on compatible headphones:

 Listen to the landscapes of Horizon Forbidden West come to life around you with the PS5 console's Tempest 3D AudioTech. Hear vegetation rustle in the wind, birds flying overhead and large mechanical machines swimming in the water below as you explore environments teeming

wildlife and machines.
Horizon Forbidden West Collector's Edition Includes:
Full Game (*Digital Download) & Steelbook Display Case
Tremortusk & Aloy Statues
Photo Mode Special Pose & Face Paint
Apex Clawstrider Strike Piece
In-Game Resources Pack
Digital Soundtrack
Horizon Zero Dawn Vol. 1: The Sunhawk Digital Comic Book
Carja Behemoth Elite Outfit & Short Bow
Nora Thunder Elite Outfit & Sling
Pre-Order Bonus:
*
Horizon Forbidden West Collector's Edition
 will come with a cross-gen digital voucher